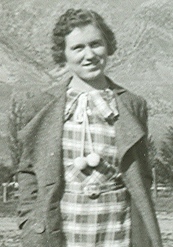 Therma Tanner was born October 19, 1915 in Grouse Creek, Utah to David Ralph Tanner and Cloe Kimber Tanner. Her brothers and sisters are: Deloy, Florence, Edna, Dean, and Bernice.
She married Ralph Frye Lee on October 1, 1937 in Brigham City, Utah. Their marriage was solemnized in the Ogden Temple November 19, 1983. Her children were: Geraldine, Jan, Jackie, John, and Scott.
Her family was always first in her life.
Therma passed away peacefully on her 91st birthday surrounded by her family and is buried in the Ben Lomond Cemetery in Ogden, Utah.