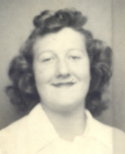 Quoted from Kendall Kimber's life story:  "We were living in the house south of the Grouse Creek schoolhouse, I being ten years old (Velma eight and a half), when my sister Donna was born. She was born March 12, 1931 (to Emma Barlow and Thomas Edward Kimber) at the Dee Hospital in Ogden, Utah.  Mother went in on the train and stayed before and after the birth at Mertle Toyn's place.  She was her cousin.  The doctor's care and close attention at the hospital eliminated much of the chance for both that Mother had with me."  (Kendall was pre-mature.  Also, Joyce was born on March 24, 1935, when Donnas was four years old).
"Donna was a friendly kid.  She had darker hair than us other towheads.  She looked a lot like me and we got along well together.  She had many friends wherever she went."
Verna and  Delma loved to go to Donna's house to play.  They remember that "Donna had a big imagination and was always fun and laughing.  Lela Kimber (Eula's sister), Donna, and ourselveshad made a playhouse out in Donna's garage.  We would play dress-up and store.  She would drag things out there we could eat.  Donna would go down to Emma's pantry to get bottled good to go in 'our' store.  Sometimes she would 'acquire' goods from other neighbors to set up our store on the front lawn to sell to the local bachelors."  As movie stars, Donna would be the gentleman and Verna the lady.  Donna would pick Verna up and carry her away romantically to live happily ever after.  Merna Kimber Peterson remembers Donna putting her in the old doll buggy and pushing her around. Donna had a big German Shepherd dog that she could get to do tricks.  It would do anything for her, but it was real scary to the cousins.
Donna's cousin, Delma, says:  "At night all of the neighborhood children would get together to play run sheep run, hide and seek, and kick the can.  All the children were included in school plays, church programs, and holiday functions.  Donna must have enjoyed these evenings and opportunities, also."
Kendall continues, "Donna could sing well, having a beautiful alto voice.  She sang in two ward choirs and the girl's glee at college.  She took piano lessons and could play well.  She could play by ear, too.  She liked cats and pets.  She liked nice clothes and always looked nice.  The folks moved to Brigham City when she was 13 years old and many of her life experiences were there.  Delma said they went to the movies a couple of times.  Ivie Kimber Keyes lived with 'Uncle Tom' and 'Aunt Emma' her senior year in high school and worked at the peach City Drive-In to earn money to pay them.  Donna was in the eighth grade and four years younger than Ivie.  Ivie said, 'She was like a younger sister to me.  I remember sitting on the bed in their back room and we talked and talked and talked. She had an aggressive personality and was quite rambunctious.'"
Kendall writes, "when we lived in Logan while I went to the Utah State College, she came over and tended our children for us and they liked her very much. She had the philosophy of what's done is done and that will be will be, so why worry."
She liked to go places and do things, always trying to do them the best she could.  In 1949, I bought a secondhand Plymouth car.  I had an offer to work for theUniversity of Arizona to be the Livestock Herdsman.  I went down to Arizona to see about it and I took Donna with me.  It was her first long trip from home, and she sure did enjoy it.  She was a careful driver with the car.  We traveled along pretty fast, but she was interested in the whole trip; the native costumes of the Navajo Indians on the reservation, the great expanse of the desert, the violence of the storms, and the intensity of the heat. She liked the cosmopolitan air of Phoenix and Tucson and the friendliness of the people.  She loved the grandeur of Grand Canyon.
In 1951 I made a trip from here to Firebaugh, California to get the rest of our furniture.  We were moving to Brigham City.  I pulled the horse trailer and Donna went back to California with me.  It was her first trip west and it, too, was a thrill.  California in March is beautiful and Utah is still kind of drab from winter. The change made quite a hit with Donna.
She was strictly a product of the 1950s teenage.  She attended college in Logan and worked at Hill Air Force Base in Ogden, Utah. Later, she attended the U of U in Salt Lake City.  It was while there that she developed an awful pain in her head and in her back.  Upon going to the hospital, she had just time to tell who she was before she passed out.  She died before Mother and Dad could get down there from Brigham.  It was a cold, snow, bad road's day.  She died December 2, 1952.  (She was 21 when she passed away).
We had a very impressive funeral for her, which was taken care of by the Harald B. Felt funeral home.  People were all very kind and there was a lot of family, who came to pay their respects and comfort Mother.  Also, every one of Dad's brothers and their wives came to do likewise.  They came clear from Boise, Idaho, Provo, Utah, and Palisade, Nevada.  It was another remarkable example of the character of the people who area a product of our way of living."