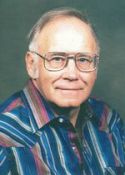 Bob was born on September 13, 1934 in Brigham City, Utah. His mother and father were Arlin and Hilda Richins Wakefield.
Bob grew up in Grouse Creek, Utah and later moved to Washington Terrace to attend school.
On October 8, 1954, Dad married his high school sweetheart, Marilyn Bingham in Plain City, Utah. Their marriage was later solemnized in the Logan LDS Temple. Bob and Marilyn would have celebrated their 55th wedding anniversary on October 8, 2009. Following Bob and Marilyn's marriage they settled in Plain City, Utah where they raised their family.
His children are: Sons Duff and Brad, and daughters Robin, Sherry, and Bobbi Jo.
He was a member of The Church of Jesus Christ of Latter-day Saints. One of his many qualities was his selfless hours of service for others. He was known as the "Neighborhood Go to Guy".
Bob's work history included retiring from the Union Pacific Railroad with 34 years of service. He was also an excellent heavy equipment operator, owning his own construction business and operating for several other companies.
He enjoyed many outdoor activities including hunting, fishing, camping, chainsaw wood carving, water-skiing and four wheel drive adventures with family members. He also enjoyed playing the banjo in the Bingham family band. One of Dad's special places is Grouse Creek where he enjoys spending time with his family.
Throughout Bob's life he was heavily involved in sports, winning the All-American Award as most valuable player in the State High School All Star Baseball game. He also traveled to Cincinnati to work out with the Cincinnati Reds Baseball Team and later won the Weber County Doubles bowling championship title in the scratch division. Along with coaching countless youth teams Dad played in his last softball game at age 73 with the family team, Sidehill Galoots.
Robert "Bob" C. Wakefield, 74, passed away peacefully in the arms of his eternal companion, surrounded by his children and grandchildren on Wednesday, August 12, 2009 due to unexpected heart failure.
Bob is buried at Lindquist's Washington Heights Memorial Park, Ogden, Utah.