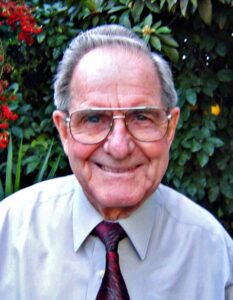 George Ballingham was born in Grouse Creek, Utah on April 1, 1920, a son of Albert James and Louisa Emiline Paskett Ballingham.
I had the following brothers and sisters, Bertha Mae, Melba Louise, Lester Albert, Mertrice Geneva, Verda Emily, Treasa Venette, and James Wendell.
I was reared and educated in Grouse Creek and Ogden, Utah and graduated from Ogden High School in 1938. I graduated from Weber College with an airplane mechanics degree in 1940. I worked at a jewelry store while going to college.
I married Rita "Carol" Smith on December 22, 1942 in Ogden, Utah. We are parents of Timothy G. and Rodney J. My wife Carol passed away in August 1981. I then married Janis Petra Johanson on December 5, 1987.  Janice preceded George in death on March 1, 1998.
I entered the Army Air Corps on February 9, 1942 at Fort Douglas, Utah, as an aircraft power mechanic, and later became an aircraft maintenance technician.  He achieved the rank of Staff Sergeant.  He was later sent to the Jet Experimental Unit, part of the 445th Fighter Squadron, Santa Maria, CA., and was honorably discharged on November 28, 1945 at March Field, CA. 
I was employed at Hill Air force Base for thirty-three and a half years retiring in 1987.  He was a supervisor in the Flight Testing Department and later was a supervisor in the Work Management Department where he helped develop the first computer program designed to manage aircraft repair.
I also did furniture repair for several different furniture stores for some time. I now have my own shop where I do beautiful woodwork. It is often displayed at art shows. I also did decor work for McKesson Robbins drug stores.
I was a member of the Church of Jesus Christ of Latter-day Saints, Burch Creek 5th Ward, South Ogden, Utah.  He enjoyed supporting Janice's professional music career and, from her, learned to play the piano and organ.  He took great pride in repairing furniture; helping friends and neighbors; keeping a yard filled with flowers; creating decorative wooden objects turned on a wood lathe, and preparing party food for family and friends on his patio deck.  George loved children and some called him "grandpa."
I have lived in Ogden for about sixty years. 
George William Ballingham passed away at the age of 101, in Tucson, Arizona. For over three years, he'd lived with his son and daughter-in-law, Tim and Pam Ballingham.
He is buried at Washington Heights Memorial Park in Ogden, Utah