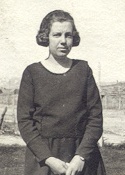 Mildred Barlow Lind was born October 26, 1900 in Etna, Utah a daughter of Joseph Smith and Elizabeth Hansen Barlow.
Her brothers and sisters are: Shirley, Elmer,Wayne, Ida and Ruth.
She attended school in Etna, Grouse Creek, and Logan, Utah.
Her father was Bishop of the Grouse Creek Ward and was called to be a counselor in the Raft River Stake Presidency.
She married Raymond A. Lind September 28, 1932 in the Salt Lake Temple.
Her children are: Amy, Anita, Lucille, Nila, and Eldon.
They operated a cattle ranch in Lynn, Utah until they retired and moved to Declo, Idaho.
She died on July 21, 1998 and is buried in the Pleasant View Cemetery, Burley, Idaho.