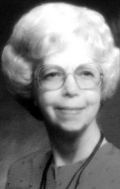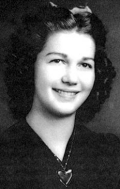 LaVon Richins Holladay was born on August 23, 1925 in Grouse Creek, Utah to Clarence and Eliza (Toyn) Richins,
Mary LaVon Richins Holladay was the youngest of seven children. She was raised on their farm where she learned her ethic for hard work. She started school in a three room school-house and graduated from Bear River High School in 1943. She excelled in academics and sports. Her whole family was musical and played at social events. LaVon often played the piano but mostly loved to dance.
Lavon married her soulmate, Don T. Holladay, in the Salt Lake City Temple on June 1, 1944. At first, they moved wherever the Marine Corp. sent Don, and for a while, LaVon worked as secretary for the Commandant of the Marine Corp. in the Pentagon.
LaVon knew the importance of education and supported Don through college, where he earned two masters and a PhD. They had a daughter, Marsha (Kraudy), and two sons, Dennis and Brent.
LaVon was an amazing woman and exceptional mother. Everyone who met her was drawn to her kind and tender spirit. She was a beautiful woman who loved all around her. She was caring, compassionate and uncomplaining. She was also an excellent cook and baker. She truly epitomized a virtuous woman. She was an active member of the LDS Church and especially enjoyed her service with Don in the Jordan River Temple.
Our beloved mother, grandmother, and great-grandmother passed away peacefully on October 12, 2010 surrounded by loved ones to return to her Heavenly Father. She is buried at the Larkin Sunset Gardens Cemetery.
History created from obituary information.