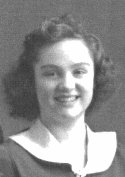 I was born at Etna, Box Elder County, Utah on December 29, 1926 to Delbert and Florence Shepherd Warburton.
My father was a son of Richard E. and Laura Amanda DeWitt Warburton and my mother's parents were Robert Shepherd and Johanna Dagmar Jorgensen.
I had four brothers, Dale LeRoy, Gerald Richard, Robert Shepherd and Odell, who only lived one day.
I received my elementary schooling at Grouse Creek, Utah, my high school education at Box Elder High School, Brigham City, Utah. I attended Utah State University, after which I taught school for two years at Snowville, Utah and Grouse Creek, Utah.
I married James Sheridan, son of Albert Cecil Sheridan and Elizabeth Eva Johnston, on June 12, 1948 at Almo, Idaho, where we have lived all our married lives.  We have four children: Marcia Ann was born on October 10, 1949, married John Carrell on December 30,1978. She died of leukemia on February 5, 1987. She graduated from Utah State University and taught school several years in the Salt Lake City area.
Sherry Faye was born on June 5, 1951 and married Michael Orson Spencer. She has three children, Erik Michael, Scott Orson, Erin Sheridan. Sherry works for Box Elder County School District and City of Rocks National Reserve.
Cordell James was born on October 6, 1954. Married Patricia Harper and they have three children, Zachery James, Autumn Layne and Breanna. He is a rancher in Almo, Idaho.
Marlon "W" Sheridan was born on November 3, 1956, married Kimberly Shiobhan Short and they have five children, Jessica Marie, Hilary Ann, Grant James, Hailey Christine, Alexa. Marlon is a real estate appraiser.
We have eleven grandchildren and one great-grandchild. On June 16, 1989, our family was sealed together forever in the Logan Temple.
I taught school for thirty years during my married life. I taught elementary education and was a special education teacher. I'm now retired, so Jim and I spend our winters in warm Arizona.
Jim has been a cattle rancher all his life plus working for the Forest Service and worked many places in Idaho as a land surveyor for the Bureau of Land Management.
Jim and I flew to Washington, D.C. with a tour group during the Nation's Bicentennial Celebration. We enjoyed New York City, Philadelphia, Boston, Rochester, Niagara Falls, and Palmyra. It was a special trip.
The joy of our lives have been our children, grandchildren and great grand child. Also, being able to live in this beautiful, peaceful valley of Almo, Idaho. We have truly been blessed.
Dorothy passed away on Friday, Sept. 10, 2010, at her home in Burley at age 83. She is buried in the Sunny Cedar Rest Cemetery.