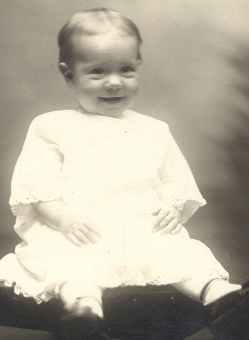 Virginia Toyn Kerr was born on December 31, 1915 in Grouse Creek, Utah a daughter of Alma H. and Myrtle Hart Toyn.
Her brothers and sisters are: Wilson, Louise, Thomas D., Robert E., Richard L., Harold H., MarthaLaVon and Marnorie.
Virginia attended schools in Ogden, Utah graduating from Ogden High School. She also obtained Beauty School training in Los Angeles, California.
She married David Lowell Kerr of Ogden, but was later divorced. She had no children.
She was owner operator of Virginia's Beauty Salon on Washington Blvd. For many years and later managed ZCMI's beauty salon in the Ogden City Mall. After retirement she operated a private salon in her home until the mid 90's. She received numerous awards for her outstanding hair styling.
Virginia was an active member of the LDS Church until moving to the County Pines Retirement Community in Clinton, Utah in January 2003.
She died on May 26, 2004 and she elected to donate her body to the University of Utah Medical School for research and education.