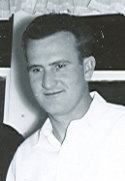 Dean was born under the covenant to David Ralph Tanner and Edith Chloe Kimber Tanner on August 19, 1928 at the Thomas Dee Memorial Hospital in Ogden, Utah.  He spent his first five years in Grouse Creek before his folks moved the family to Brigham City, Utah for his sisters to continue their education.
Dean's early Grouse Creek Years
Dean and his sisters lived in a one room, dirt roof log cabin at one of his Dad's fields in Etna called the Meadow.  They lived there during the summer and rented houses in Grouse Creek during the winter months.  While at the Meadow, his Dad would change the irrigation water and little Dean would come along behind him and change it back.  Also, the girls, his mother and Dean would walk from the Meadow to the Hart place to visit (a distance of approximately 4 miles.)  They would take a baby buggy along filled with root beer because that was the only way they could get Dean to walk.  Another anecdote tells of Dean watching his mother milk a Herford cow with one horn.  His mother told him not to get too close or that cow would hook him.  He replied, "If that cow comes after me, I will knock its d___ horn right off."  Another time, Berniece his youngest sister who is four years older than he, would bake mud pies on the hot rocks and have Dean sample them.  Having four older sisters, he had to take a lot of orders while he was just a young kid.  When he was four, he was presented with a younger brother in
September.  The next year, the family was moved to Brigham City for educational opportunities (Grouse Creek only has school thru the 10th grade.)  Another anecdote relates to when his mother killed a rattle snake.  She told him that if he ever saw a snake like that, he was to come get his mother immediately.  His reply was that he would just take a shovel and cut its d___ head off.  As you can tell, Dean's language as a young boy was quite colorful.   For the most part, Dean spent a good amount of his time as a young boy with his Dad as he attended to the fields and the cattle.
Growing Up In Brigham City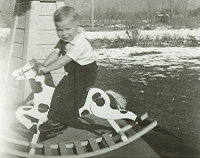 Moving to Brigham City at age 5, Dean attended school there for all twelve years.  He spent each winter in Brigham City and each summer at the ranch in Etna.  Before he entered school, he would take his wagon and pull an old maid school teacher named Lucille Jones to school.  She had a bad foot and had a hard time walking.  While attending grade school, he would get in fights with a school bully.  His mother chastised him for fighting and thus he came home several times with bruises and cuts.  Finally, his mother changed her mind and said if he got beat up one more time, she would paddle him when he got home and that settle the fighting issue since he presumably bet the crap out of his tormentor.  While in high school, he chummed around with several of the Ward boys who just happen to make up about half of the all state football
and basketball teams.  Dean was a good athlete himself, but since he had to stay at the ranch until after the hay was harvested, he could not participate in school athletics because he was not available for practice each fall.  Sometime during this period, he was given an old Chevrolet which he rebuilt and had access to for the last two of his high school years.  He would gather up his friends and drive about 10 kids to school each morning he was allowed to take the car.  When he graduated from High School in 1946, he and several of his friends joined the Army and were sent to Japan for occupation duty.  Some of the people that joined were: Darwin Young, Wendell Hess, Charlie Mills, Raymond Jensen, and others.
Dean's Army Career
Dean contracted Rheumatic Fever in Japan and was hospitalized and sent back to the USA to Fort Bliss Texas to the hospital.  He was released after serving 11 months and 10 days (or close to that time.)  Anyway, the draft laws (selective service) required at least 1 year of service to be considered a veteran.  Thus, he was not considered a Veteran even though he was drawing a partial disability from the Army.  He tried college (Utah State), sewed some wild oats and worked at some gas stations.  He straightened up his act and got married to Iva Beth Simonsen in the Logan Temple.  He was then drafted in early 1951 (since the draft board didn't consider him a veteran) and served another 2 years in the Army.  Iva Beth was able to be with him most of the time.  He went for basic training to Ft Lewis Washington where Iva Beth joined him until he was shipped to Fort Sheridan near Chicago.  From Ft Sheridan, he went to Sault Ste. Marie, Michigan where he was the motor pool sergeant.  He was always good repairing anything mechanical and thus he gained that esteemed position.  Iva Beth was with him most of this time.  He was discharged in early 1953.
Dean the Family Man
After being discharged from the service, Dean purchased half of the double lot his sister and brother-in-law had on second west in Brigham City and built Iva Beth and himself a two bedroom, shake house.  This is where he lived until his death.  In middle 1950's, Dean and Iva Beth had a son whom they named Rodger Dean Tanner.  Approximately, four years later they were blessed with another son whom they named Kent Brian Tanner.  This was the extent of their offspring.  During this time, Dean worked at Utah General Depot and several different gas stations part time.  He later took the postal exam, passed and was hired as a letter carrier for the Post Office in Brigham City.  His brother-in-law, Cliff Hobson, was also working for the Post Office and they lived side by side in homes they each built.  In these early years, Cliff and Dean did a lot of things together like hunting, snowmobiling and vacationing.   They even went into the Drive In business together for several years.  This did not work out and Dean went back to work for the Post Office.
Dean's Last Years
In late 1979 or early 1980, Dean suffered his first heart attack.  He had open heart surgery to try an experimental procedure to stop his ventricular fibrillation.  He was given a 40% chance of surviving the operation.  The operation was a success and he was doing ok for about six months.  However, he was too weak to continue with the Post Office and was given a medical retirement.  After the six months, it required a series of experimental drugs to keep his ventricular fibrillation under control.  This did not curtail him from doing many of the things he enjoyed.  The year of his death (or possibly the year before), he and his son, Kent, took a cross country motorcycle ride along with a couple of friends.  This was something Dean thoroughly enjoyed.  During this time, Dean also worked on small engines, did some snowmobiling and motorcycling and some rafting.  After his second heart attack, the doctor tried to implant a pace maker but Dean did not survive the operation and died 1 day short of his 57th birthday on August 18, 1985.  He was a very outgoing person and a friend to many people in his lifetime.  He left behind four sisters, one brother, a widow, two sons and several grandchildren.  He is still missed to this day by several of his siblings.
Dean is buried at the Brigham City Cemetery in Brigham City, Utah.