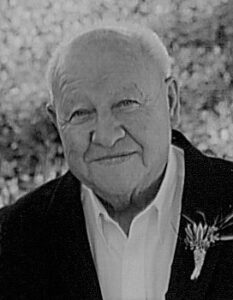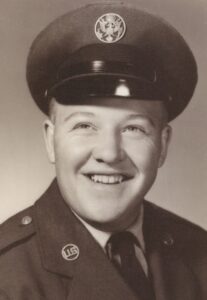 Charles Clay Toyn was born on February 13, 1937 in Ogden, Weber County, Utah. He was the fourth child of Alfred Charles and Josephine Rhea Newton Toyn. His father worked as a pumper for the Southern Pacific Railroad. He moved occasionally as a child due to his father's employment. Charles spent his early years in Grouse Creek, Utah, Lucin, Utah and Loray, Nevada. Charles was the youngest child, and his brothers were several years older, so he probably got a lot of attention and maybe quite a bit of teasing.  His siblings are Verl, Lenora, and Lamar.
When Charles was about eight years old, his father became seriously ill with Miner's Consumption due to his early work in the mines in Nevada. He was taken to the Southern Pacific Railroad Hospital in San Francisco, California. After about six months his father passed away on May 15, 1945. This was very traumatic for Charles and his family. Also his older brother had died the previous year, during World War II, and his sister Leora had died one week before Charles was born.
He and his mother moved to Ogden, Weber County, Utah to an area called Washington Terrace. His mother worked in the laundry for the Union Pacific Railroad. Charles attended Grouse Creek School, Montello School in Nevada and Washington Terrace School in Ogden, Utah. He graduated from Weber High School in Ogden, Utah where he played football and baseball.
Charles was a happy fun-loving boy with a good sense of humor. He had many friends. Blair Kennedy, Ron Rich and others occupied much of his time, After high school, Charles enlisted in the U.S Air Force from April 2, 1957 to May 13, 1963. He served in Arizona, Texas, England, France, Germany, Japan, Korea, Philippines and North Africa where he had the privilege of working as a mechanic and had the honor of working on the Thunderbirds. After his time with the Air Force, Charles worked at Hill Air Force Base as an ACFT Mechanic, Quality Assurance, Safety Specialist and Occupational Safety Manager, until his retirement.
While serving in France, Charlie met and married his "French Souvenir" Yvette Goeury on January 26, 1963 in Nancy, Lorraine, France.
Yvette had three children. They are:  Domonique August Goeury, who was born on November 19, 1951 in Nancy, France; Patrice Goeury Toyn, who was born on April 7, 1953 in Nancy, France; and Michelle Jeannine Toyn who was born on March 5, 1958 in Nancy, France. Nancy Lorraine was added to the family on June 27, 1965. She was born in Ogden, Weber County, Utah. Charles and his family were greatly saddened by the death of their second son, Patrice, who passed away on July 13, 1994, in Ogden, Weber County, Utah.
Charles and Yvette have lived in Nancy, France; Ramstein, Germany; Pleasanton, California and Ogden, Utah. Since their retirement they have spent a lot of time in Grouse Creek, Utah, where they have a summer home. They also enjoy spending the winters in Arizona and other warm areas. They particularly enjoy spending time with their children, their spouses, and their grandchildren.
They raised together four children, Dominique Goeury (Marina), Pat Toyn (Marsha), Michelle Peterson, and Nancy Peebles (Jim). They purchased a home in Washington Terrace, Utah and made it their forever home. Later in life they would make a second home in Grouse Creek, Utah to enjoy during the summer months. 
Charlie had a passion for traveling with his wife in their RV from Alaska to Florida and from the Pacific to the Atlantic always having their pets in tow. He loved to fix and build clocks, and at one point a count was taken and he had 63 working clocks in his home. He was an avid movie watcher, news spectator and a sports enthusiast.
Charles was 84 when he passed away peacefully on Thursday, October 14, 2021
Charlie had 10 grandchildren and 15 great-grandchildren at the time of his death. He loved his family very much and was very proud of his rich heritage.
Charlie is buried at the Grouse Creek Cemetery next to his wife.