Kathryn Kimber Nabors was born January 4, 1939 in Brigham City, Utah a daughter of Ernest and May Tingey Kimber.
Her brothers and sister are: Darrell, Baline, DelRoy and Alana.
She was reared and educated in Grouse Creek, Utah.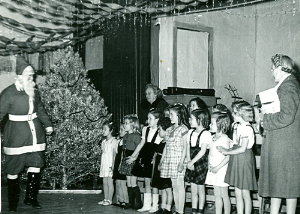 Santa Clause, Gail Toyn, Judy Rae Kimber, Joetta Kimber, Norma Jean Hadfield, Mary Lou Thomas, Fae Tanner, Carolyn Kimber, Ilene Ballingham, Rosalie Ballingham
Back Row – Shirley Tanner, Kathryn Kimber, Marlene Toyn, Patsy Blanthorn, Merle Tanner, Carole Tanner
Teachers – Martha Kimber and Louisa RobertsShe was a member of the LDS Church and was a Certified Public Accountant in Mine Run, Virginia.
Kathryn married John Bachman Nabors and her children are: Bachman, Eric, Tony, Michael, Stephen, Shawn, Elizabeth, Desire, Carrie Sue, Marie, Kathy Joe and Ami Mae.
She died February 28, 1988 at the University of Utah Medical Center, Salt Lake City, Utah of complications of liver failure and is buried in the Brigham City Cemetery.