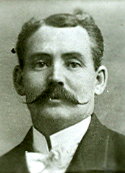 George Alfred Blanthorn was born August 19, 1858 on Cook Street, Southampton, Hampshire, England, the third son of John Blanthorn and Mary Charlotte Boobyer. His parents were converts to the LDS Church.
His father died when he was eleven, so at age twelve he sought employment as a Page boy, becoming a Page for the physician to the English Royal Family, waiting on the Prince of Wales, who later became King of England.
In May 1877 he joined the Royal Navy as a nurse, where he served until 1881. He probably deserted at this time, because he worked under an assumed name until he immigrated to Utah on October 3, 1887. His mother and brother preceded him to the New World.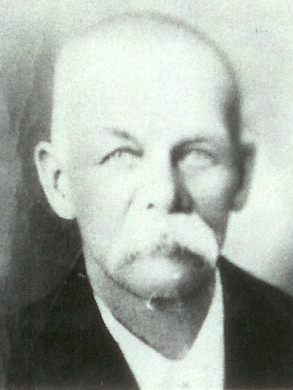 He was employed as a nurse at the Deseret (LDS) Hospital. Here he met Ellen Shaw Simpson, a widow, who was training also. Ellen had eight children from her previous marriage to James R. Simpson. The couple was married on October 16, 1891 and returned to Ellen's Grouse Creek Ranch.
To this union in Grouse Creek a son, George, was born on September 30, 1892.
George A. Blanthorn was ordained a Seventy on November 5, 1889 and served as a home missionary and a counselor in YMMIA and Superintendent of the Sunday School.
In 1900 he was called to serve a mission in England for two years in Southampton, the place of his birth. He reported in his journal, "I left there a good branch for which I had obtained a meetinghouse."
On March 28, 1915 the Raft River Stake was organized, and he was ordained a High Priest and called on the High Council.
The transition to farming and ranching was a difficult one for the Englishman. The physical labor of branding calves, for example, proved far removed from his former occupation as a male nurse.
He passed away on April 30, 1936, following a prolonged illness. He was interred in the Grouse Creek Cemetery.