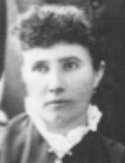 Elizabeth Ann Kimber Cook was born on June 6, 1856 in Hamstead Norris,Berkshire, England. She is the seventh child of Charles and Caroline SellwoodKimber. Her brothers and sisters were: Edward, Eliza Ann, Hannah, Fannie, Charles Jr., and William James. Eliza died when she was 13 and is burried in England.
On June 20, 1868, Elizabeth and her parents, Charles Kimber, and his wife, Caroline, brothers, William James and Charles Jr., and a niece, Ellen (Fannie's daughter), left England on the packet ship Emerald Isle. Hannah and Fannie never came to America but Edward and his family did later. They sailed from Liverpool with 876 saints aboard, under the direction of Hans Jensen Hals.
They had quite an unpleasant journey as the engine for purifying salt water broke and they had to return to Ireland for repairs, which took several days. They were six weeks on the ocean and there was much sickness with thirty-seven deaths at sea and others died in the
hospital in New York.
They arrived at New York harbor on August 11 and landed on August 14. The family then traveled on the Union Pacific Railroad to Council Bluffs and from there in cattle cars to Fort Benton, which is about 700 miles west from Omaha. They arrived there on August 25.
Her niece, Ellen, then four years old, died at Fort Benton and was buried there. They rested there for several days and then continued their trip by mule team to Salt Lake City, arriving on September 25, 1868. They stayed in Salt Lake for two days then went on to Tooele, Utah, where they made their home for about eight years.
They made their home with William Sellwood, a brother of Caroline, for a short time and then moved into a one-room house, where they spent their first winter in America.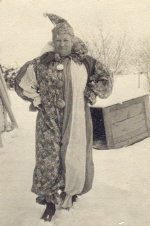 She lived with her parents when they first moved to Grouse Creek, Utah and then back in Tooele, Utah where there was work in the mines.
A daughter, Clara Elizabeth, was born to her in Tooele on May 8, 1875. The family returned to Grouse Creek and her brother, Charles Jr. built a frame, two-story house for her, where she lived and operated a boarding house in the block behind the present day Post Office. (The Aunt Lizzie place).
She had a cow on the block to provide her dairy needs, and together with a large garden
provided for herself and Clara quite well.
On February, 26 1880, she was married to George Adelbert Cook, who had been injured in the Civil War and had recently moved to Grouse Creek. He became the father Clara had never had.
Elizabeth died on June 16, 1933 and is buried beside her husband in the Grouse Creek Cemetery.