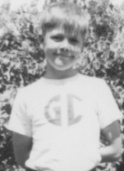 Marvin Carlos Kimber was born July 18, 1935 in Grouse Creek, Utah the son of Ivan Carlos and Raida Betteridge Kimber.
His brothers are: Richard, John and Lynn. He had one sister Darlene, who died at birth.
He attended school in Grouse Creek in the early grades during this time.
At the beginning of World War II he had an accident on the swings at the school. Since it was a long way to the doctor and it didn't seem too serious, it was a while before he was taken to a doctor. It was discovered that he had a broken pelvic bone and osteomyelitis had set in.
Over the next two years he and his parents, Ivan and Raida made many trips to Brigham City, Ogden and Salt Lake City, Utah to doctors and hospitals. After numerous surgeries to remove infected ribs, scrape the femur bone and drain infection from the abdominal cavity, he was placed in the Primary Children's Hospital in Salt Lake City.
All of this put a strain on the family's finances, but they continued to do everything possible. After a trip back home for Christmas, they stopped to see Doctor Merrill in Brigham City. He examined Marvin and told them he was going to try to get some penicillin for Marvin – up to this time this new wonder drug had only been available for military patients. Doctor Merrill was able to get the penicillin and in 1943 Marvin became the first civilian to receive the drug. Doctor Merrill stayed right with him through all the treatment. It worked and in a short period of time, after two years of illness he was well and at home with the family.
For several years Marvin worked on the ranch helping his parents and worked at some other jobs in the area until he moved to Las Vegas, Nevada to join his brother John, working with the Nevada Department of Transportation.
There he met Virginia Revert and they were married October 15, 1957 in Goldfield, Nevada.  They were later divorced. On August 11, 1989 he married Bobbette Walkington, who cared for him through his extended battle with cancer.
His children are: Marla Rae, Mellinda Jo, Merissa Ann and Michael Leon.
He was an avid fisherman, which took him to remote areas of Nevada to lakes, ponds or streams where he could be alone. Not only did he catch fish, he loved to prepare them into delicious meals. He enjoyed cooking.
Those people with whom he worked described him as a quite, loyal and efficient worker. He just did his job.
Marvin died October 3, 2001 in Pioche, Nevada and is buried in the Grouse Creek Cemetery.