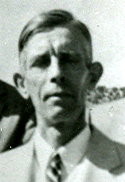 William Philip Shaw was born in Grouse Creek, Utah on February  22,  1909, the only son of Willie and Emily Emma Paskett Shaw. He had six sisters: Emma, Mary, Vilate, Ada, Viola, Elaine and Elizabeth. Bill was reared and educated in Grouse Creek.
On September 10, 1932, Bill married Fern Kimber in Elko, Nevada. The marriage was later solemnized in the Logan LDS Temple. The following children were born to them:  Alan W., Elden K. and William Charles.
He was essentially a shy, wise man who loved and provided for his family and treated all with respect.
Bill became a sheepherder at age sixteen, then a professional sheep shearer for almost fifty years, traveling with a shearing crew throughout Montana,Idaho, Utah, Nevada, and Wyoming. On many of these trips he was often accompanied by his family.
He loved to hunt deer in the mountains surrounding Grouse Creek and could recount the location and circumstances of every successful hunt. He also was an avid trout fisherman, having fished the few streams available near Grouse Creek and the rivers and streams he encountered during his shearing years.
During the off-season he was employed at Dover's Furnace and at Beehive Coal & Appliance, both in Brigham City, Utah.
He was a member of the LDS Church where he was an Elder and had served as President of the Young Men's MIA in Grouse Creek. He was also the Brigham City 3rd Ward Custodian.
After Fern passed away, it was hard for Bill to live alone because of his loneliness so he moved into the home of Arvol and Elsie Smith, Fern's sister and brother-in-law. They loved having Bill with them and they spent many hours talking, laughing and enjoying each others company.
After his health failed, he resided in the Sunshine Terrace Home in Logan, Utah where he passed away on February 23, 1989 and is buried in the Brigham City Cemetery.