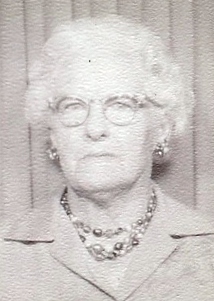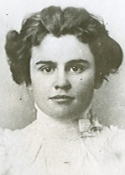 Mabel Warburton Richins was born on August 12, 1885 in Tooele, Utah. Her father, Richard Edward Warburton, was born in Salt Lake City, and her mother, Laura Amanda DeWitt, was born in Provo, Utah. Her dad was a descendant of English and Irish and her mother is of French descent. They joined the other immigrants in coming to America for the same reasons as many people, for more freedom and a better place to live in peace.
Richard and Laura had six children. They had six sons and three daughters, of which Mabel was one. They left their home in Tooele to settle cattle and ranch properties in Northwestern Utah, on the Grouse Creek, in a beautiful fertile valley, where they built a beautiful, big home.
It was here that Mabel and her brothers and sister grew up. Mabel was active in school and church, devoted to the type of excellence in all ways which her parents fostered and insisted upon.
She came under the certification of Box Elder County Superintendent of Schools, Nephi Anderson, who was an important teacher and leader in the LDS Church, and she taught school intermittently throughout her life.
Mabel had a palomino pony that she rode six miles to school. She took the Primary grades and the Principal carried on the higher grades. She kind of learned while she taught. The Principal had good books that helped her a lot. She taught school in Etna, Grouse Creek, Almo, Idaho and in Salt Lake.
Good reading and music in the home was encouraged and enjoyed. Her dad bought a beautiful piano. It took two of the best ponies they had to trade in on this piano. It had a metal sounding board, came from Canada. It was so nice to be able to take lessons and learn to play. She played the organ for church. She felt like she got most of her training out of the hymns. She played them until she could recite the words to them.
Mabel was married to George Robert Richins on September 21, 1904 in the Salt Lake Temple. They were parents of four sons and three daughters, Della, Ross, Edna, Bernita, Richard, Rex and Kay. They lived in Grouse Creek, Box Elder County, for a few years until chosen with four other families to go to Idaho to organize the Raft River Stake in Cassia County. George was in the Stake Presidency and Mabel was Stake President of the Primary, having held various positions previously in the MIA organization. After living in Idaho for about nine years, they moved to Salt Lake City to get the children established in good schools.
Mabel continued in her church activities and did substitute teaching in the city schools. She always kept a keen interest in children and young people.
In the years after Mabel did the substitute teaching in the City schools, when she found it difficult to weather the cold winters, she opened a Day Nursery. She operated this nursery with skill and efficiency, and was still remembered with love by many of the children after they had grown up.
Mabel died in 1983 and she is buried in the Salt Lake City Cemetery.