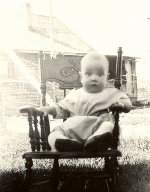 I was born on April 1, 1927 at Yost, Box Elder County, Utah, a son of Morris Albert and Evelyn Tracy Smith.
One brother, Irvin Morris (Jean Yoder) and two sisters, Beatrice (Harold Durfee) and Delsie Evelyn (Cleo Teeter) preceded me. Four brothers were born later, Owen Thomas (deceased), William Samuel (Merna Carnahan), Clarence Ray (Phyllis Arbon) and Eugene Robert (deceased) (Florence Bebout).
My father owned and operated the country store and was Postmaster in Yost. He also operated a large truck, hauling produce to markets in Utah and Idaho, then bringing groceries back for the store. In addition, he was a Sales Representative for the International Harvester Company, selling and servicing farm machinery in the area.
When I was about six years old, he built a new store and home across the road from the church in Yost. Prior to that his store was located on my Grandfather Tracy's place about one half mile east of the church.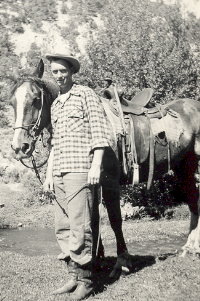 I was privileged to help build the new buildings, in a small way to grownups but in a big way for me.
Later when I was about thirteen years old he traded the store for a ranch, located about a mile south of the schoolhouse.
I went to school at Yost through the tenth grade, then I went to Box Elder High School for a very short time then to Weber High School in Ogden during my junior year. In my senior year I attended Ogden High School until March 1945, then I joined the Navy. Later, I attended Weber State University and studied accounting.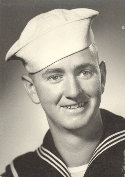 I spent most of my Navy time in San Diego, California at the training base or at North Island Naval Air Station. I served as a baker in the mess hall and was stationed at North Island when the atomic bombs were dropped on Japan and the war ended. It was quite an experience to see the lights turned on again after years of blackouts and to observe and participate in the celebration that followed.
I enjoyed the ranch and the many activities going on in the Yost area so I spent a year or two there after being discharged from the Navy. It was during the ball playing and dances afterward that I met and fell in love with Delma. Hughie and Marjorie Thompson, Delma and I developed a great friendship that has continued through the years.
In the spring of 1948 Delma and I both moved to Ogden and I started working at the Utah General Depot (U.S. Army). I had worked there for a short while prior to going into the Navy. I worked in Inventory Management until 1962 then I transferred to Hill Air Force Base where I continued working in Inventory Management. I enjoyed this very much and I spent most of my time with the F-4 and F-16 aircraft, supplying spare parts to bases all over the world. I was rather successful and retired in 1985 as a supervisor.
Delma and I were married in the Logan LDS Temple on July 30, 1948 and made our home in Ogden. Our first child, Susan was born on May 26, 1950. We then moved to Washington Terrace, a wartime housing development. Karma was born on March 4, 1952. In the fall of 1955 we had our house moved onto a permanent foundation and completely remodeled and we moved into it in January 1956. Our son, Alan, was born on February 25, 1956, on March 5, 1959 Rebecca was born, and on November 15, 1961 Tracy, our fourth daughter was born. Susan married David Wirick, Karma married Kevin Allred, Alan married Judy Hughes, Becky married Roderick Rasmussen, and Tracy married Ben Boyd. We have thirteen grandchildren, Brett, Cody, Amber, Garet and Lindsi Wirick, Justin and Kimberly Allred, Aimee Smith, Case and Gage Rasmussen, and Colby, Austin and Sarena Boyd.
While living in Washington Terrace the past forty-six years, I have tried to keep active in the LDS church. I have served as an Elders Quorum President, Ward Clerk, Stake Clerk, Bishop's  Counselor, Stake high councilman and an eighteen-month full time church service mission with Delma. While serving as the Stake Clerk we were privileged to meet and associate with most of the General Authorities when they came to our Stake Conferences. (Usually we went with them to lunch between stake conference sessions).
President Spencer W. Kimball, when he was President of the Quorum of Twelve, reorganized our stake and called and set me apart as the Stake Clerk. I was able to spend most of the day Saturday with him, helping with the reorganization. A very special time.
During the building and dedication of the Ogden Temple our Stake President, Millen D. Atwood was assigned to be the overseer of the project and I was able to assist him with paying the bills and other clerical duties. I helped him with the scheduling of Stakes and others for the orderly open house before the Temple was dedicated. It was a very wet and cold January and we had a lot of snow removal problems. Trucks and front end loaders would come in during the night and haul away all of the snow that had accumulated during the day so we would be ready for the next day.
At the completion of the open house all of the carpet in the Temple had to be replaced before the dedication because of moisture damage. I and Delma were privileged to attend the first session of the dedication of this Temple.
Early in the spring of 1995 the LDS Church decided to dispose of the Grouse Creek cemetery, rodeo grounds and tithing granary. The members of the Grouse Creek Co-op voted to purchase the property then sell the granary, and for a legal entity to own and manage the cemetery and the rodeo grounds. Delma and I were co-chairmen of the Cemetery committee so we pursued the legal entity. It evolved to the formation of a Grouse Creek Cemetery Maintenance District and a Grouse Creek Special Service District for Recreation. I was named Chairman of the Special Service District in September 1996 by the Box Elder County Commissioners.
I have enjoyed my spare time, vacations and retirement at our summer home in Grouse Creek, Utah. I enjoy building, repairing things, ranching, fishing, hunting, and horseback riding, especially in the great open spaces of Western Box Elder County, Utah.
Verl T. Smith (92) passed away on August 6, 2019 after a brief battle with cancer.and is buried in the Grouse Creek Cemetery.