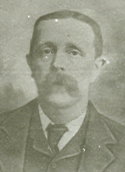 John Hadfield son of Christopher Hadfield and Mary Bennett was born on April 28, 1852 at Glossop, Derbyshire, England. He had one sister, Betty. He spent his early life with the brother of his father, John Hadfield, who was the Mayor or Magistrate in the community. He also owned twenty-two homes. John worked for his Uncle with these homes and eventually worked with his father, Christopher in the cotton mills as a loom manager and overseer of 1,000 employees.
After his marriage to Mary Shaw they lived in one of the three homes of his father, Christopher, on Harrup Street with their children and continued his work at the mills, not desiring to leave and follow Mary's parents to America after their conversion to the church of Jesus Christ of Latter-day Saints.
However, a dispute at the factory so angered John, he quit and soon the family sold everything and left their beloved England for America.
On May 11, 1900, they boarded a train for Glasgow, Scotland and on the next day boarded the City of Rome, the finest ship afloat, for the city of New York. After about fourteen days the boat docked in the New York harbor.
The family stayed for a few days with Lizzie Boyle, a cousin of Mary's father. The final part of the trip was from Ogden, around the Great Salt Lake to a small railroad town called Terrace. Here the family was met by Willie Shaw, Mary's brother. A team and wagon provided the transportation from the train to the community of Grouse Creek, about forty miles northwest, where they were to make their new home, arriving about the middle of June.
They lived in humble circumstances in a rather barren wilderness compared to the lush beauty of England. A two-room log house with a dirt roof and a few essential pieces of furniture had been provided and the family was soon settled and trying to make the best of everything.
John provided for his family doing janitor work, with the older children doing odd jobs. Eventually their sacrifices were rewarded by great blessings. Later, the family worked with livestock and began to homestead and get land and a home for themselves.
John Hadfield passed away on September 13, 1928 and is buried in the Grouse Creek Cemetery.