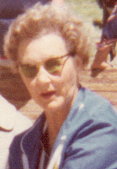 Sarah Betteridge was born Grouse Creek, Utah, on September 5, 1908 to Hugh Roberts and Louisa Caroline Kimber Roberts. She was the first of eleven children. Their names are:  Sarah Raymond, Wilda, Byron, Vern, Mary, Marie, Morgan, Rex, Joy and Colleen.
She spent all her youth in Grouse Creek and attended school there. She was a member of the LDS Church. She was an avid horseman and enjoyed the outdoors.
She married Wallace Howard Betteridge on February 17, 1927 and moved to Lucin, Utah in 1928 to be with Wallace. She is the mother to six children, Marva, Darwin H., Vernon W., Vernon W., Janice Beth, Owen Clark and Vivian Rae. They were all born in the Dee Hospital in Ogden, Utah, with the exception of Vivian, who was born in Montello,Nevada. Sarah, (better known as Sally) devoted her life raising her children, taking great pride in their accomplishments.
Most of her life was spent in Valley Pass and Montello. She was an accomplished baker and spent many hours canning fruit and vegetables for the family.
After the family was raised, Sarah and Wallace spent many hours playing pool in their guest house. She won many trophies with her skill.
In 1968 Sarah and her daughter-in-law went to work for the restaurant in Montello, serving breakfast to the railroaders and town people. They gained quite a reputation for their expertise at putting together good meals fast, with cheerful attitudes and conversation.
Sarah enjoyed traveling and was ready whenever the opportunity presented itself. She was a regular visitor back to her home in Grouse Creek. She traveled from Southern California to Washington and as far east as Georgia to visit her family.
Her home has always been open to visitors and friends. In her later years she spent time cooking bread and pastries for the older people in Montello.
Sarah's hobbies were working in the vegetable and flower garden.
Sarah passed away in her home in Montello on July 21, 1986 of heart failure at the age of seventy-eight. She is buried beside Wallace in the Grouse Creek cemetery.