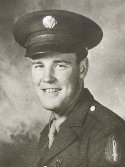 Alfred Verl Toyn was born on September 13, 1924 in Tremonton, Box Elder County, Utah. He was the oldest child of Alfred Charles and Josephine Rhea Newton Toyn. His father worked as a pumper for the Southern Pacific Railroad. His family occasionally moved due to his father's employment. They lived in Lucin, Utah, Loray, Nevada, and Grouse Creek, Utah where his family owned a ranch. He attended Grouse Creek School for his elementary years and for two years of high school.
At the age of sixteen he left home to work in central Nevada for the Southern Pacific Railroad on a Signal Gang. Sometime after his eighteenth birthday, he received a draft notice. He applied for and received a six-month deferral. Six months later he received a second draft notice and left to serve his country in the U.S. Army near the beginning of World War II.
He received his basic training at Baton Rouge, Louisiana. After boot camp, his unit was shipped to the European Theater. He was a part of the invading forces in Southern France. On September 24, 1944, shortly after his twentieth birthday he was killed in action and buried in France. After the end of the war, his body was shipped home and he was buried near his sister in the Riverview Cemetery in Tremonton, Box Elder County, Utah.