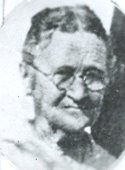 Marian Maiben was born on June 8, 1853 at Keokuk, Iowa to Henry and Caroline Penn Maiben, as her parents sailed up the Mississippi River on their way to an outfitting station to prepare for crossing the plains. They arrived in Salt Lake City by ox team on September 9, 1853.
Marian's father was a painter and carriage maker. He had gone to Oxford University and had training in the arts, dance, music and acting. He participated in the first theatricals in the Salt Lake Theater.
Marian's mother took care of the costumes for the theater and her daughter, Marian helped her. As a result, Marian became an excellent seamstress. Later in Grouse Creek she made all the family clothes, including clothing for the men of the family. She married Charles E. Lucas in December 1872. They moved to Grouse Creek in 1879.
Nine children were born to them:  Belle, Alice, Charles, Lucilla, Kate, Henry, Edith, Maude and Emma.
She passed away on October 4, 1933 at Grouse Creek and she is buried there in the cemetery.