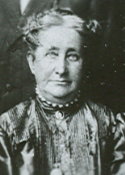 Sarah Patience Paskett was the first child of James Pope and Charlotte Buckingham Paskett. She was born on February 1, 1840 at Tetbury, Gloucestershire, England. She was baptized in the LDS Church on June 25, 1850 at the age of ten years.
When Sarah was old enough to hire out, she acted as chambermaid to a rich family in England, for a number of years.
Sarah, with one of her young brothers, Philip A. Paskett, sailed from Liverpool, England, on August 9, 1871. The name of the steam ship was the "Minnesota." They spent fourteen days on the ocean.
When Sarah and her brother landed in New York they were met at the wharf by Thomas Paskett, a cousin of their father, who took them to his home and treated them very well. This cousin had a shoe store in New York, and seemed to be quite well off. He was a non-Mormon and tried to persuade them not to go to Utah and "those Mormons."
After traveling seven days by train these young immigrants arrived at Echo Station, Utah on August 30, 1871. They were met there by their brother, John Curtis Paskett, a brother-in-law, George Judd and a young man by the name of William Cotton Betteridge, a friend of Sarah's, who later became her husband. They were taken about four miles to Henefer, Summit County, Utah, to the home of their sister, Fanny, who had come to Utah several years before.
Soon after her arrival in America, at the age of thirty years, Sarah was married to William Cotton Betteridge on October 23, 1871, in the Old Endowment House in Salt Lake City, Utah. This couple made their home in Henefer, Utah. Their first child, a son, James William, was born on September 26, 1872. On January 18, 1874, another son, John Taplin was born. A daughter, Mary Elizabeth was born on June 1, 1876 and died on June 6, 1877, age one year and six days, and was buried in Henefer Cemetery.
In October 1877, Sarah, with her husband and two children, left their home in Henefer, and in the company with William P. Paskett, and family, Philip A. Paskett, and family, and Albert F. Richins and family, and probably other families, moved to Grouse Creek, Box Elder County, Utah. There was not an acre of land cultivated in the valley where these pioneers had come and decided to make new homes for themselves, so they passed through many hardships, living in dugouts, unfinished houses, and the first winter some of them lived in covered wagons.
On September 5, 1878, another daughter, Sarah Penelope, was born. Other children born to this couple were William Cotton Junior on April 6, 1881, and Edgar Charles, on September 6, 1883.
On July 15, 1881, Sarah and the children moved to Tacoma, Nevada to be with their husband and father, who was working there for the Central Pacific railroad, now known as the Southern Pacific. They were there until February 12, 1882.
In December 1889, Sarah took the tiny baby girl, Lillian Paskett, at the death of the mother, Sarah Ann Paskett, wife of her (Sarah's) brother William P. Paskett. Sarah raised the little girl as her own child, and she lived there until she was married and had a home of her own.
On November 16, 1895, Sarah's husband left Ogden to go to England on a mission for the LDS Church, leaving her with the family of six children to care for.
Sarah was always active in church work. She was President of the Young Woman's Mutual Improvement Association for a number of years.
Sarah was very active in the Relief Society in the Ward, acting as first counselor to Mary Jane (Polly) Cooke for a number of years. On August 15, 1901, she was made President with Martha J. Toyn as first counselor and Amanda Tanner as second counselor and held that office until July 13, 1910.
Sarah was always a good neighbor. She would share with her friends and neighbors. She was a good cook and if she had anything she thought anyone could use she would never throw it away, but it would be taken to someone to use. She was a good home maker.
The Betteridge home was always open to the young people, and it has been said that they always had a good time when they went there, to visit or to have a party. Sarah would always ask the young girls to come to her house and help quilt even when they were just learning how to quilt.
Aunt Sarah, as she was called, had beautiful hair and it always looked so nice, never a hair out of place. It has been told by relatives and friends that her husband always combed and curled her hair for her for many years. Well, he surely did a good job of fixing it.
About 1910 tragedy struck in the home. Sarah suffered a paralytic stroke or two which left her partially paralyzed and she was an invalid the rest of her life. She was not bed-fast, but sat in her rocking chair day after day for eight years. She could not walk. Her husband was always by her side and waited on her hand and foot. She did a lot of embroidery work while she was sitting in her last years, and gave each of her granddaughters some of her work. They had a hired girl to do the housework and cooking for many years. Then on February 5, 1918, just five days after her seventy-eighth birthday, she quietly passed away at her home while sitting in her rocking chair. She was a good mother, grandmother, friend, and neighbor and raised an honorable family. She was laid to rest in the Grouse Creek Ward Cemetery.