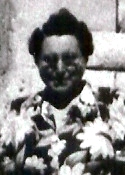 Lillian Grace Chadwick Warburton was born on January 24, 1901 in North Ogden, Utah, the oldest of seven children of Thomas Henry and Rebecca Jane Murphy Chadwick.
Her father was English and her mother's family came from Ireland. All of her grandparents were converts to the church.
The family moved to Star Valley, Wyoming when Grace was just a baby. They lived in Star Valley until she was in her teens then the family moved to Kaysville, Utah.
The family consisted of Grace, Florence, Harold, Horace, Luella, Baby boy (died at birth) and Bern.
Grace tells:  "We always went to church. It was cold in Star Valley in the winter. Wherever we went we went by sleigh. They put straw in the bottom of the sleigh and then warm flat irons and lots of quilts. They put blankets over the horses while they waited in the cold. When we came out of church they put the horse blankets around us and the warmth from the horses bodies helped keep us warm. When we reached home, Dad would carry each one of us in the house with the blankets around us and we would kind of whimper and cry until we were tucked into bed."
"The drifts were piled high along side of the roads."
"We were poor but so was everyone else. We wore uniforms, Sundays as well, because that was what we had. Some had patches on the elbows."
Being the oldest, Grace had to help with the farm work and help milk cows. At one time they milked thirteen cows by hand. Her mother's health was not so good. Sometimes the children would have to pedal her old Singer sewing machine so she could sew. She had an operation and she couldn't.
Her Dad used to play the harmonica for dances in Star Valley. Sometimes he had to play alone if no one else came. Grace used to go to dances. They'd go down on the sleigh.
When Luella, her sister, was only a few months old, she had whooping cough. She whooped and whooped and couldn't get her breath. Grace lit out and ran for Dad who was in a field away from the house. He saw her coming, waving and running. He unhitched the horses from the harrow and brought both still harnessed together as he didn't take time to undo them. He rode one and hit them with the reins. Grace yelled "Luella is dying."  He kept on going as fast as he could and, or course, by the time he reached the house the baby was about recovered. Grace stumbled and fell and cried all the way back. Her mother had said, "Quick, Grace! Get on Ol' Whitey and go get your Dad" and one of the kids said, "She's already gone."
Thomas played the mouth organ really well. He often played for dances. Ruby was a good dancer, small and light on her feet. They had music in their home.
Grace attended school in Star Valley and went to high school in Afton, Wyoming, which was five miles. She stayed there with her cousin, Pearl Chadwick for a week at a time, then go home at the weekend. Grace graduated from Davis County High School, one grade ahead of her age group (She had been allowed to skip a grade earlier). She got some credits from the Snow College, the BYU, Utah State College in Logan, and attended University of Utah where she received her teaching certificate. She taught elementary grades at Etna, Utah, then at Clinton, Utah.
She had to go to Grouse Creek on the Lucin cutoff. She lived at the home of Laura Warburton. Mrs. Warburton had six sons. She met Ross while teaching at Etna. She got engaged to Ross that spring. Two years later in 1922 they were married. She lived on the ranch in Etna for fifty years.
She was the only teacher in the little schoolhouse at Etna. She had about fourteen students. Out in the hall they had a little water bucket and a dipper. Everybody could get a drink there. They hung their clothes out there. They had the old style desks and chairs. There was a potbelly stove that got real red in the wintertime because it's so cold. Jesse Barlow lived just below the Warburton place and he always took his kids to school and picked up Grace and took her on. He'd make the fire. There weren't any lavatories in the school. The girls went this way and the boys went that way. There was a shed they could put their horses in if they had to ride to school.
Ross enrolled at LDS Business College and went to visit at her home on weekends when she was teaching at Clinton.
They were married in Salt Lake City on September 29, 1922. They made their home at Etna, Utah for all of their married life.
After her marriage Grace stayed home and began raising her family. These children are:  Reese, Clair (who died at the age of ten), Dwight and Carol.
In 1943, Grace again taught school, this time at Grouse Creek. She taught a total of seven years.
The three children grew up and married and started their own families. Reese and Dwight worked on the ranch and mostly raised their families there so they had close family ties and many happy associations. Carol lived just over the mountain so they were able to see each other often, in the summer months, at least.
Grace was an active member of the LDS Church and enjoyed serving in the church auxiliaries.
Grace and Ross were married in the Logan Temple on September 22, 1965 and their four children were sealed to them. Reese's wife, Irma, served as proxy for Claire. Ross passed away on April 5, 1967.
Grace remained in the family home until 1977 when her health made it necessary for her to move to Logan, Utah to the Sunshine Terrace.
In the years that Grace spent in the Care Center she has had some of her oil paintings receive awards at the fair. She collected and shared recipes and extended her musical talents beyond the piano, which she used to play, to the auto harp. She had an extensive knowledge of genealogy and shared this with people who came to see her about it or people who just came by.
Grace's sharing personality drew friends of all ages to visit her. She had artwork, philosophies, ideas, genealogy, quilting helps and recipes for anyone who was interested. She said, "A person is about as happy as he makes up his mind to be."
Grace passed away on February 27, 1988. She is buried in the Brigham City Cemetery.