Gerald Lorenzo Lee – 3 February 1934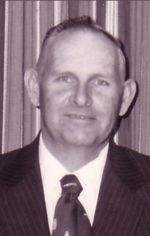 Gerald was born February 3, 1934 in Logan, Utah to Lorenzo and Drucilla Lee. He had 2 brothers, James Robert Lee and Richard Lee,
Gerald spent most of his early childhood in Grouse Creek, Utah, where he cultivated his love of animals and agriculture. His family then moved to Ogden, where he completed his education and graduated from Ogden High School. He completed one year of college and four years of ROTC training before taking a job with the SP Railroad.
He married his sweetheart, Verla Judkins, on July 7, 1954, in the Logan Temple of The Church of Jesus Christ of Latter-day Saints. Their children were Gerald Curtis Lee, Ervin Brent, Radine, Tamra and Lorena.
His love of agriculture and dairy farming soon took him to Fallon, Nevada, various places in Cache Valley and eventually to Montello, Nevada. The past 11 years he has lived and worked in Pilot Valley, Nevada.
He was an active member of The Church of Jesus Christ of Latter-day Saints where he served in many callings.
Gerald Lorenzo Lee left his mortal afflictions for eternal peace on December 14, 2008, and is buried in the Logan City Cemetery.