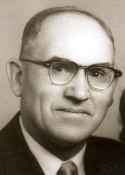 Lawrence J. Kimber was born in Grouse Creek, Utah on May 10, 1899, a son of William James and Jemima Tanner Kimber. He had five brothers, William (Bill), Thomas E. (Ted), Joseph A. (Joe), Alvin and Howard and two sisters, Clara Ann and Bertha Caroline.
Lawrence lived the first seventeen years or so on the Kimber ranch, twelve miles south of Grouse Creek.
When he was five years old, his father built a one room schoolhouse on the ranch and hired a teacher, but they needed one more student to qualify, so they started Lawrence in the first grade at five years old. However when he was in the second grade they put him back in the first grade because he couldn't spell squirrel.
When he was nineteen years of age his brothers had finally came home from World War I and he wanted to go away to school so at the ripe old age of nineteen he started in the ninth grade at Box Elder High School.
He enjoyed his schooling very much and while there he got his elbow broken in a wrestling match. It was not set properly and he had problems, aches and pains, with that elbow for the rest of his life. When it was time for him to go back to school for the tenth grade he was needed on the ranch so he did not finish his higher education.
When he was twenty-two years old, on June 22, 1921, he married Nola Mary Richins in the Salt Lake Temple and they shared more than sixty-two years together. To them nine children were born, three boys, Clifton, Wayne and Glenn, and six girls, Elva, Ivy, Norene, Myrna, Jeneil and Bernice.
Lawrence loved his family and was a good husband and father. Work on the ranch and at Grouse Creek was very scarce and when his children were a little older, it was necessary for him to be gone away from home to work to provide for their needs.
In 1947 they sold their home at Grouse Creek and moved to Brigham City, Utah to be closer to school for the kids and to his work as a Warehouseman at Hill Air Force Base. He retired from here after twenty years. This move turned out to be a good move for the family. Because of steady hours, he had more opportunity to serve in the church.
In 1960 they moved to Sunset, Utah, where they spent their remaining years.
He loved the Lord very much, and he served in many positions. He taught in the Priesthood and Sunday School. He was one of the Seven Presidents of the Seventies in North Weber Stake. He served three stake missions, was a High Priest group leader for ten years, an ordinance worker in the Ogden Temple and he was a faithful home teacher for more than sixty-five years.
He was a great example for his family and those around him for his kindness, his willingness to forgive, to help wherever needed and always show his love for the Lord. We all knew his testimony was his greatest passion, and his active children were his greatest joy.
He passed away on December 23, 1983 after a valiant battle with Parkinson disease. He left a great legacy of nine children, forty-five grand children and 140-plus great and great-great grand children.
He was interred in the Clearfield, Utah cemetery.