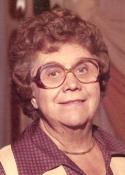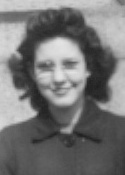 Therma was born January 6, 1911, in Grouse Creek, Utah, a daughter of William C. and Mary Elizabeth Hadfield Betteridge.
Her brothers and sisters are Hilda Betteridge, Ella Tanner, Doris Flinders, Wilma Little, Ken Betteridge, Clara Wheelwright, and Betty Treseder.
On June 14, 1935, she married Willis Leon Files. Their marriage was later solemnized in the Salt Lake LDS Temple. Bill died April 24, 1963.
Therma was active all of her life in the LDS Church where she held numerous Ward and Stake callings.
She retired from McKay-Dee Hospital after 30 years of dedicated service.
Therma passed away peacefully on Monday, November 20, 2000 from natural causes. She is once again reunited with her loving husband, her mom and dad, and four sisters. What a great time to say "Thanksgiving" for being such a special mother. We love her so much and will miss her dearly.
Funeral services will be held Wednesday at 3 p.m. at Lindquist's Ogden Mortuary, 3408 Washington Blvd. She is buried at Lindquist's Memorial Gardens of the Wasatch in Ogden, Utah