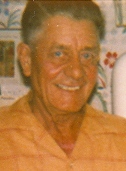 Orland J. (Shorty) Betteridge was born February 14, 1904 in Grouse Creek, Utah, the son of John T. and EllenBallingham Betteridge.  His sisters and brothers are:  Wallace, George, Elva, Wilbur, Raida and Eva.
He married Evelyn Tanner on November 2, 1925 in Brigham City, Utah. Their children are: Allen Dale, Thelma, Mary Ellen, Marsha and Sharon.
He was raised and educated in Grouse Creek and for 48 years he worked for the Southern Pacific Railroad. He retired in 1968 as a water and fuel supervisor.
He was a member of the Elks Lodge and the LDS church.
He loved his family and enjoyed hunting, golfing, and gardening. He always had patience, kindness and love for people. He touched many lives with his quite acts of service.  He had a good sense of humor and loved life.
He died August 25, 1993 and is buried in Lindquist's Washington Heights Memorial Park, Ogden, Utah.