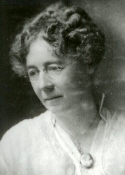 Martha Jeanette Douglas Richins was born in Grouse Creek, Utah, on February 27, 1895 a daughter of James and Mary Elizabeth Toyn Douglas.  There were six children in the family:  May, Jennie, Harriet, Ruby, Pearl and Richard.
She lived most of her life in Grouse Creek and Etna, Utah, and received her education there. The family lived in a little log cabin at the north end of Grouse Creek.
Her father and uncle, Dave Douglas bought the Eager Parson Ranch at Etna.
She attended her early schooling in Etna, Utah. The school consisted of one large room with a stove in the middle of the room. There were wooden desks with an ink well in each desk with a bottle of ink. Grades first to eight grades attended this school. We walked from the ranch to school, about three miles one way. Later the School Board furnished a horse drawn bus to pick up the children of the scattered ranches.
In 1913, James and David Douglas sold the ranch and moved back to Grouse Creek. They bought a house from Joseph Lee, now known as the "Green House."
She married Newell Richins on November 19, 1913 in the Salt Lake LDS Temple. They had no children but were claimed by many nieces and nephews, probably the closest were LaRene, Virginia, H. Douglas and I. Virgil Richins because their father, Wellie was Newell's brother and their mother Ruby was Jennie's sister.
Newell and Jennie moved into the house that Newell was born in across the lane from the rock house. They remained there until the year 1944 when they moved to the rock house to help take care of Newell's mother.
Jennie was a very gracious lady. She took pride in herself and in her home, always keeping it neat and clean.
Jennie and Newell were ranchers in Grouse Creek.
She passed away in Tremonton, Utah, on January 8, 1981, at age eighty-five and is buried in the Grouse Creek Cemetery.