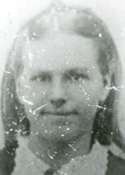 Sarah Ann Henefer Paskett was born October 30, 1855 in Salt Lake City, Utah a daughter of James and Sarah Hulks Henefer.
Her brothers and sisters are:
She married William Pope Paskett
Her children are: Sarah Patience, Penelope Ann, William James, Louisa Emiline, Cora May and Lillian.
She died in Grouse Creek, Utah on December 5, 1889 due to complications of childbirth and is buried in the Grouse Creek Cemetery.