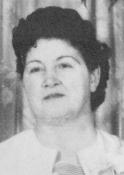 Lorna Kimber Hadfield Tanner was born October 31, 1915, in Grouse Creek, Utah, a daughter of Evan O. and Amy Warburton Kimber. She had the following brothers and sisters: Ivan, Ernest, Ida, Grant, and Effie.
Her early education was at the Grouse Creek elementary school then from Box Elder High School in Brigham City, Utah.  She married Gordon Hadfield, June 26, 1940. They had one daughter, Norma Jean. He died after a tragic accident on June 14, 1944; she then married Mervin Tanner on November 22, 1946. They had 2 children, Claine and Tamera.
She was a member of the LDS church, serving in the YWMIA, the Relief Society and Primary.
She died May 12, 1966 in the Dee Hospital, in Ogden after an extended illness and she is buried in the Grouse Creek Cemetery.