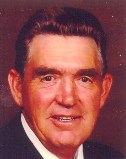 Jack O'Niel Kimber was born on April 5, 1927 on the Kimber Ranch in Grouse Creek, Utah a son of William Charles and Bertha McCuistion Kimber.
His brothers and sister are: Kay, Bryce, Merrill and Barbara.
Jack was reared and educated in Grouse Creek and graduated from Montello High School in Montello, Nevada.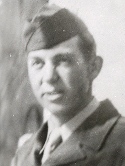 He served his country as a gunner in WW II in the United States Army.
He was a Director of the Grouse Creek Cattleman's Association, FHA Farmer of the Year. Jack loved to hunt, work with cattle and horses.
Jack was an Elder in the Church of Jesus Christ of Latter-day Saints and served as First Counselor in the Elders Quorum Presidency.
He married Marian Valentine Pearson on June 14, 1952 in Grouse Creek, Utah. Their marriage was later solemnized in the Logan LDS Temple on September 22, 1964.
Their children are: Randy Dean, Stuart Matthew, A. William (Bill), Quentin Joseph, Curtis Eugene, Marilyn O'Niel, Gwendolyn Kay, Jacqulyn  "Jaque", Karen M., and Edie K.
Jack died April 7, 2002 and is buried in the Grouse Creek Cemetery.