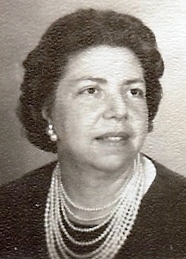 On March 30, 1921, I became the first born child of Wellington Irving Richins and Ruby Douglas. I weighed eight pounds and was assisted into this life by midwives Ellen Blanthorn and Mary Hadfield. I was born in the home of my great-uncle Lorenzo (Lo) Richins, which is the property immediately south of the cemetery in Grouse Creek, Box Elder county, Utah.
My mother often told me what a good-natured baby I was and she attributed it to the fact that I sucked my thumb. I had the usual childhood diseases, but we were an unusually healthy family. My first experience with a doctor was when I had my tonsils removed in Brigham City when I was thirteen years old. When I was thirty-five, I had my gallbladder and appendix removed in the Dee Hospital in Ogden, Weber County, Utah.
Cars were not plentiful when I was a child, but surreys and horse drawn vehicles of all kinds were. The highlight of one of my days was often a ride to the store or my grandma's in a Model T Ford. My dad bought his first car, a Chevrolet, when I was eight years old.
I was born into the Mormon church. My parents were both active members who had been married in the temple at Salt Lake City. We were all regular attenders of all of our church meetings. Prayer was a mainstay in our home. We enjoyed family prayer morning and night and the word of wisdom was strictly observed.
My great-grandfather, David H. Toyn, gave me my name and blessing on my mother's birthday on June 5, 1921.
I was baptized in an irrigation ditch which had been damned up overnight for the yearly baptismal. This ditch was just east of the Billy Hadfield home on the north end of Grouse Creek. Some of those baptized the same day were Eula Kimber, Flora Tanner, Calvin Warburton, Leland Wakefield, Arnold Paskett, and LaVerne Lee. John Hadfield, the bishop, baptized me on August 1, 1929. He confirmed me on August 11, 1929.
My only sister is Virginia. I have two brothers, Herold Douglas and Irvin Virgil. Virginia was born at Uncle Wilford Richins's home immediately west of the church house. Doug was born on January 20, 1925, in the log house across the lane, which belonged to my grandfather, Albert F. Richins. He was born in the same room where my father had been born almost twenty-eight years previously. We were all three attended by the same midwives. Virginia's birthday was on March 4, 1923. Virgil was born on December 26, 1928, at the  home of my Aunt Eliza Blackburn at 2618 Eccles Ave., Ogden, Utah. The doctor was Dr. Conrad Jensen. I have two half-brothers and one half-sister.
I was married to George Napoli of Ogden, Utah. Virginia married Clifford Ulary of North East, Cecil County, Maryland. They were later divorced and she was married to Boyd J. Empey of San Diego, San Diego County, California. Douglas married Luana Tingey, Riverside, Utah. Virgil married Sharon Hales of Riverside, Utah. These two ladies are second cousins.
My first nine years of schooling was at the Grouse Creek Elementary School. When I was fifteen, I left home to continue my schooling. I attended the Bear River High School at Tremonton-Garland, Utah. I graduated from that school in May 1939. I also graduated from the Garland LDS Seminary the same year. The great depression of the United States was on during my high school days and though I always had a desire to be a school teacher, this was not possible for me at the time. I took speech and public speaking in high school and really enjoyed it. My ninth grade teacher, Clyde Morris, had instilled me with a good attitude toward these subjects although I did little with them until several years after I was married. I was very self-conscious during my high school days, possibly because of making the gigantic step from a small community school to a large school.
The opportunity came for me to be a cashier at the Midland Hotel Café in Tremonton. I worked there from November 1939 until February 1940 when I eloped with the owner, George Napoli. We were married on February 20, 1940, by Bishop Myron Richard of the Ogden Third Ward at Ogden, Utah. We were married at about 4:30 p.m. at his home on the corner of 22nd Street and Grant Avenue. We remodeled the café and renamed it the Oak Café. We owned and operated this café until November 1953.
We have lived in various apartments and houses since our marriage, but we have never lived more than one block away from main street.
George and I have six children:  Sherron LaRene, born on November 20, 1940, in Tremonton, Kathryn Dee born on December 31, 1942 in Ogden, Robert Stanford born on August 19, 1946 in Tremonton, Marilyn born on August 13, 1952 in Ogden, Georgia Denise born on January 4, 1956 in Tremonton, and Lori born on February 7, 1961 in Tremonton.
I sometimes wonder if my years of service in one organization or another is my fulfillment to the natural desire I had as a child to be a teacher. As of this year of 1964, these are some of my areas of service.
Primary (7 yrs.)
Sunday School (17 yrs.)
Relief Society (12 yrs.)
Genealogy Committee (1 yr.)
City Parks Committee (3 yrs.)
Women's Civic League (10 yrs.)
Parent-Teachers Assn. (4 yrs.)
A.F. Richins Family Rep. (2 yrs.)
Ward Homecoming Food Chairman (2 yrs.)
Northern Utah Family Life Comm. (2 yrs.)
These services I have contributed to since the year 1944. I dread the time I may be considered an old plug and no longer needed.
When Virginia and I were young we would sing together at church, school and special occasion programs, but my singing ended about the time my tonsils came out. I have a secret desire to paint, but I have no natural talent for it. I like to write, embroidery, read and do genealogy. I am not much for sports except basketball. I love a good game of basketball and for several years George and I seldom missed a high school basketball game.
There are few people who are privileged as I have been to have known personally all of my first cousins, of which I have eighty-three, all of my aunts and uncles, and to have lived close to both my maternal and paternal grandparents.
I have a personal testimony of Christ which leaves no doubt in my mind that he did exist and that he does now exist. I have felt first hand the terrible power of the devil and have felt his immediate presence. The veil between my mother and me is very thin and when I have least been expecting her closeness (she died in 1956), she has been near and I have been very aware of her. I feel she gives me the strength I need to look to the future. Who but the mother can understand the weaknesses of the child.
These forty years have been so full I cannot anticipate anything but spiritual richness in the next forty years.
Larene passed away October 7, 1998  and is buried in the Tremonton Riverview  Cemetery.