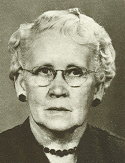 Louisa Roberts was born in Grouse Creek, Utah on August 12, 1889, a daughter of Charles Jr. and Sarah Elizabeth Morgan Kimber.
She had the following brothers and sisters:  Annie Elizabeth, Charles William, George Edward, Elmer, Ellen, Evan Osborne, Franklin Vaughn, and Sarah. She also had the following half brothers and sisters:  Edith Chloe, Winfred Charles, Mary Persis, Florence Hannah, Raymond Hugh, Joseph Edwin, Vera May, Oren LeGrande, Fern, Elsie, and Charles Jr.
She attended school in Grouse Creek and graduated from the Oakley, Idaho Academy.

Louisa was married to Hugh Roberts on October 13, 1908, in Grouse Creek. The marriage was later solemnized in the Salt Lake LDS Temple. He died in 1970.
The following are their children:

Sarah Elizabeth married Wallace Howard Betteridge. Sarah died on July 21, 1986 in Montello, Nevada, and Wallace died onSeptember 27, 1989 in Ogden. Their children were Fay and Opal who died at birth, Marva, Darwin H., Vernon W., Janice Beth, Owen Clark, and Vivian Rae.
Raymond Hugh married Evelyn Fae Churchfield. She had one daughter that Ray helped raise named Beverly Joy, who died onFebruary 13, 1992 in Colorado. Evelyn died on June 4, 1966 at Pequop Nevada, he then married Olive Verna Hager. She died in November 1979 in Vermont. Ray died on May 5, 1996 in Montello, Nevada. Wilda died of burns on May 12, 1917.
Byron married Gloria Fae Benjamin and they had two children, Peggy Sharon and David Hugh.
Vern married Betty Jean King and they had one daughter, Tana Raye.
Mary married William Shaw Thomas and they had two children, Duane W. and Mary Lou. Mary died on December 15, 1989 and William died on April 1, 1986.
Marie married Dale Bartlette Whitaker and they had Carol Sue, Gary Bruce, and Connie Ellen.
Morgan never married, died on March 15, 1978.
Rex Clifford married Patty Rae Dean and they had Gene Michael drowned on August 12, 1979, Shirley Ann, Kathy Lynn and Blaine Rex.
Joy married Miles Edwin Tracy and their children are Brent and Robert.
Louisa was a very good homemaker and mother. She took great pride in raising a garden and tending to her flowers. She was always willing to help anyone in need.
She was a member of the LDS Church and had served as organist, Primary President, MIA Secretary, Relief Society work director, and teacher.
She had been a cook at the Grouse Creek school.
She spent many hours collecting histories for the Kimber Organization.
She passed away in Burley ,Idaho, at age ninety-one, on April 20, 1981. She was interred in the Grouse Creek Cemetery.