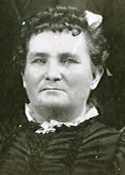 Martha Jane Davis was born at Council Bluffs, Iowa, on June 26, 1847, at the time of the migration of the saints from Nauvoo to Salt Lake City. She was the daughter of John Meeks Davis and Elizabeth Abshire. She crossed the plains by ox-team, walking most of the way. Her girlhood days were spent in and around Salt Lake and as far south as Parowan.
She married James Marshell Jackson and they had two children, a boy and a girl, William and Mary Elizabeth. Mary Elizabeth Jackson stayed with her mother and was sealed to her stepfather, David H. Toyn. There was no formal adoption. She was called "Molly."  The boy, William, stayed with relatives and lived and died in Uintah Basin.
Martha Jane married David Harry Toyn on November 19, 1872. The eleven children born to them:  David Adams, Francis Harris, Charles Crawford, Thomas Spencer, Ann Eliza, Alma Harry, May and Mamie (twins), Cora and Nora (twins) and Joseph Edgar.
She and David moved with others to Grouse Creek in 1877 with their children, Molly, David and Francis. Times were hard for these early pioneers and under these circumstances Charles was born at what was known at that time as Cookesville, where the settlers had moved in near each other for convenience for school, church and protection from the Indians, of whom there were many in and around Grouse Creek. These settlers mostly lived at what was known as the "Berg" and attended their farms, some being some distance from their living quarters. At first they lived in a dugout until their home was completed.
At these times, and for years to come, times were hard. Little money to be had, but they never went hungry or lacked sufficient clothing for their comfort and welfare. Food consisted greatly of such as was produced on the farm, milk, eggs, butter, and meat, such as pork, beef and chickens, etc., not much of a variety, but healthful and palatable. Wheat was hauled a long distance to be ground into flour and bread stuffs. The nearest store and market was Terrace, on the railroad, about forty miles away, so it was impossible to have everything at all times, even if money had been plentiful. Transportation and communication was slow by team and wagon, horseback or on foot. The world as they knew it was small, and for years they little realized what lay beyond their little community.
In the year 1889, David sold one of his work horses to a sheep man for $100.00. An excellent horse, but still a big price for that time. Martha and David made preparations to go to the Logan temple, by team and wagon, with the family of children and have their sealing work done, as they were married by civil ceremony only.
Martha Jane died on September 30, 1925 and she is buried in the Grouse Creek Cemetery.