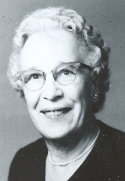 Grace Viola Jorgensen was born in Logan, Utah on December 21,1891. Her parents are Isaac Jorgensen and Rebecca Nielsen. They had a family of sixteen children (eight boys and eight girls) and Grace was their tenth child. Isaac was a carpenter. He also owned a store, and some flour mills and an orchard to provide for his large family.
Grace was born at home with a midwife attending. Her first teacher at school was Lydia Daines. Vera, her younger sister and constant companion, as well as other members, learned in their early years to work, milking cows, thinning beets, picking and sorting apples and churning butter in a wooden churn.
Grace was baptized at the age of nine years, on February 12, 1901 in the Logan Temple by Samuel G. Spillman and confirmed the same day by Thomas Morgan. The family moved many times since the father had business enterprises in several locations in the area. However, Grace and her sister, Vera took a preparatory course at UAC (now Utah State University) in 1909-10.
Later that year Isaac Jorgensen moved his family to Etna, Utah to be nearer his ranch there. While there, Grace met and was courted by a young, handsome, dark-haired man named William Hadfield. William was a convert to the LDS Church and had recently emigrated with his family fromEngland. The Hadfield family was living in Grouse Creek, about ten miles north of Etna.
It was during this time that Grace was attracted to this young man. He owned a classy black surrey with the "fringe on top" and a fancy double team of high-stepping, well-curried horses and many hours were spent on the road between Etna riding to and from dances and parties.
One day William asked Grace if she would wear his ring. She agreed and the wedding date was set for October 18, 1911. At the appointed time, Graces' parents accompanied them to the Logan Temple where they were married. Following the ceremony, William took his bride to Wendelboe Jewelry and bought the promised ring for his bride. They also had their wedding picture taken and in the evening their parents honored them at a wedding supper.
They lived in one room of the Jorgensens' home that winter and the next spring moved to a thirty-acre farm located west of Smithfield. Their first son, Gordon WilliamHadfield was born there.
But the farm was not profitable. A terrible hailstorm ruined their sugar beets and their garden. They ended the season with a loss of $200.00. They decided to move toGrouse Creek where land was available for homesteading. One of the requirements was to live on the land and build a home. A one-room cabin was constructed. Three of the children were born there:  Myrl, Ronald, and Elden. The cabin was no longer adequate for the parents and their four children, so Grandpa Jorgensen helped them build a larger house. This was the home where six children were born, (Norman, Vonda, Amy, Max, Nina and Dean) and where the parents and their ten children were living on a sad day in 1929 when the father, William, passed away. He had a kidney ailment and was in the hospital in Ogden for several months before his passing.
Grace moved to Logan after selling the farm property but she maintained contact with her Grouse Creek neighbors. In July 1988 she traveled with a large number of family and friends and walked up the hill near the place where the home was. That proved to be her last visit to the old home and she passed away on September 30, 1988 having lived as a widow for fifty-nine years.
Her posterity includes ten children, fifty grandchildren, 160 great grandchildren and eleven great-great grand children. Funeral services were held in the chapel in her ward in Logan on Wednesday, October 5, after which a large contingent of cars drove to the Grouse Creek meetinghouse where a short program was held. Interment was in the Grouse Creek Cemetery.
What happened to the ten children of William and Grace Hadfield?
During the "Times and many Seasons" in the lives of these ten children of William and Grace Hadfield, we truly feel joy in the Celebration of life as Utah celebrates the 100 years of statehood and can freely say, "Utah we love thee" and express our deep felt thanks for our heritage in the State of Utah with our beginning in Grouse Creek, Utah.
#1 – Gordon William Hadfield, the first son of William and Grace Hadfield was born on August 18, 1912 on a sugar beet farm located west of Smithfield, Utah, called Amalga, Utah.
He was delivered by a midwife, Aunt Maria Toombs. She is a sister of Graces' father, Isaac Jorgensen. Gordon was born a healthy robust dark headed boy and off to a good start.
During the first few months of his life a devastating hailstorm struck and almost destroyed their beautiful garden and sugar beet crop. Due to this crop failure, lack of funds and discouragement, William moved his family back to Grouse Creek, where his parents and siblings lived, and what he felt best for his new family. Thus Gordon got his roots firmly planted in Grouse Creek, Utah.
From the journal written by his mother, Gordons' life has been one full of responsibility, sharing and working, intermittently sparked with the joy of family activity. He became the big brother, protector and the hero to all of his younger brothers and sisters. His main education came from the school of real life experiences where the classroom learning was interrupted greatly as he was regularly needed to help with major farm work of planting, irrigating the fields, harvesting crops, caring for the livestock, etc., especially as the health of his father declined and added responsibility became a part of his young life. His father passed away, leaving Gordon nearly seventeen years old at the time, with a man's responsibility for the farm and family, together with his brave young mother.
Gordon proved his mettle. He courageously carried on, put his shoulder to the wheel and filled his father's shoes completely. In all of our hearts and minds he truly won the prize. Gordon had some good school years at Grouse Creek and was truly loved and highly respected for the good work he did there. One teacher named LaRue Burnham truly cared for and about him.
Gordon married Lorna Amy Kimber in the Salt Lake Temple on June 26, 1940. They are the parents of one daughter, Norma Jean, seven grandchildren and nine great grandchildren (two more expected in May 1996).
It was a sad day for all of us when tragedy struck and Gordon was so suddenly taken on June 14, 1944.
The following is quoted from the Oakley Herald dated June 1944.
Tragedy hit hard this community when death stalked in and took from us one of our most beloved and respected citizens on June 14.
Gordon Hadfield son of Mrs Grace Jorgensen Hadfield met with an accident at home which from all appearances brought instant death. He was alone on the place at the time, his wife and three-year-old daughter being at the home of a neighbor.
The accident was first discovered by Archie Toyn, a nearby neighbor. He went to the family car near the corral only to find Gordon in the drivers seat with his head locked securely, being pinioned between the door and the car frame, the door being held firmly by a rake wheel which had caught the door handle and held it in a vice-like grip.
From all outward evidence it is presumed that he was looking backward at his loaded trailer through the partially opened door when contact was made with the rake wheel. It is presumed he died instantly, as there was no evidence of a struggle.
Word soon spread over the community, and soon, ready and willing neighbors and friends were on hand to render every service possible.
Gordon, at the time of his father's death in 1929, was a boy of sixteen, being the oldest child in the family of ten children.
It is marvelous indeed how he, as a boy of his age, stepped, as it were, into his fathers shoes and assumed, by the side of his mother, the responsibility of the home, and the care of this family of young children.
Many have been the self denials and sacrifices on his part, that the family should have everything essential for their comfort and welfare.
Many a father of mature years would be found less competent to plan and provide, than this boy of tender years. Never once has he been known to shirk or ease up in his efforts to carry on as a father would have done, facing the same responsibilities.
#2 – Myrl Hadfield Allen, first daughter, was born in a one room log cabin in Grouse Creek, Utah with her Grandmother Mary Hadfield and Aunt Ellen Blanthorn, as midwives. She attended school in the rock school, spending two years in the first grade due to shyness, so it is told. When there were no other classes for higher learning she later went on to school in Logan, Utah with two younger brothers, Ronald and Elden. They lived in Grandpa Jorgensens little yellow frame house. During the year a job opportunity at the Mountain Bell Telephone and Telegraph Company cut into Myrls education, but provided the necessary funds to live in the city and help others of our family to attend high school and graduate. She worked as a "number please" girl until she met Foster B. Allen and became his wife on his birthday,June 21, 1938. Under his tutoring she later received her high school diploma. Her life time career and "pursuit of happiness" came as wife, mother and homemaker.
Foster and Myrl are the parents of six children, twenty-nine grandchildren, and eighteen great grandchildren. Since retirement, Foster and Myrl have fulfilled four Spanish missions for the LDS church. They have been temple officiators at the Logan Utah, Atlanta Georgia, Argentina, and Mesa Arizona Temples. Foster passed away on November 28, 1995 after a valiant struggle with health problems.
#3 – Ronald Jorgensen Hadfield was born on April 14, 1915 at Grouse Creek, Utah in a one room log cabin also with Grandma Hadfield as midwife. He attended school at the community rock school, riding to and from school with all the others kids from the northern part of Grouse Creek in what was known as the "band wagon." Our Dad and Uncle John took turns driving us every other week. He was out of school one year then Elden became a candidate for high school. All three children, Elden, Myrl and Ronald went to Logan and lived with Grandpa Jorgensen, in his little old yellow farm house at 65 East 500 North next door to the Samuel Christensen family. Ronald became a real hero or life saver for Elden and Myrl by helping Aunt Ret do her washing. In exchange they did ours. Ronald was a favorite of Grandpa and Aunt Ret, and a blessing to his siblings, FOR SURE!
After graduating from Logan Senior High School, he worked awhile for Hubert Ward Tire Company. He met and married June Humphreys in Farmington, Utah on August 17, 1937. Later Ronald became a police officer and was working there at the time he was sworn into the Navy on March 15, 1944. He was the father of one son at the time, another child, a daughter, was born while he was still in the Navy, where he served two years.
Ronald spent ten years as a police officer for Logan City. After the war (World War II) he worked with Parsons Construction Company. He was Superintendent of Roads, until his retirement twenty-nine years later.
Ronald and June are the parents of three living children, one deceased and eleven grandchildren, and three great grandchildren.
It was another sad day for all when tragedy struck and Ronald's life was taken on April 23, 1995.
#4 – Elden Edward Hadfield was born on October 15, 1916 at Grouse Creek, Utah, also in the one room log cabin with Grandma Hadfield in attendance. He grew up enjoying and experiencing the carefree days with his siblings. Regardless of the remoteness of school, and home, the teachers were the best and great educational opportunities were provided. As his schooling at Grouse Creek came to a close, he attendedLogan Senior High School with Ronald and Myrl and graduated along with Ronald.  After graduation he worked odd jobs as taxi driver, etc., and the Logan City Diesel Plant.
Elden and Sarah met and were married on December 31, 1941 in Preston, Idaho, later sealed in the Logan Temple on May 11, 1953. Rather than be drafted, the eligible Hadfield boys joined a branch of the service of their choice, except Norman, who was drafted. Elden enlisted with the Merchant Marines and served there during World War II. Elden worked as an engineer with Utah Construction and did a lot of moving. His longest time was in Australia.
He later established his own drapery business in Salt Lake City and has been highly successful, also received patents for several drapery rod inventions. He has served as Bishop, High Councilor, Stake and Ward Missionary Leader in Salt Lake and was an officiator in the Salt Lake Temple.
Elden and Sarah have three daughters, one son, and twenty-three grandchildren and six great grandchildren.
#5 – Norman Earl Hadfield was born in Grouse Creek, Utah on June 7, 1918. He was the first to be born in the new, yet unfinished home that Grandpa Isaac Jorgensen built for us.
Norman missed a year of school after he finished at Grouse Creek. He and Vonda came to Logan together and joined the others and graduated the same year that Vonda did. He drove a taxi a short time after graduation, but felt he could do better back at Grouse Creek, where he chopped cedar posts (in the snow), working with Gordon tying the fleece after the wool was sheared or other odd farm jobs, even a stint on the Pacific Railroad. It was while working out of Lucin, Utah in Tungsten Mines that he became critically ill with a ruptured appendix.
While working at Horace Taylor Service Station that he courted a sweetheart, Elaine Mair but Uncle Sam intervened due to World War II. Norman was in the second draft into the Army on March 17, 1941. After four years of intense heroic service in many lands for his country and receiving many distinguished awards and citations, he said the order to return home was the best and the sweetest.
He returned home in June. He and Elaine were married in the Salt Lake Temple on October 8, 1945. Norman worked for Logan City Street Department for twenty-three years. He was a street foreman and ended his career as Street Superintendent.
He was a leader in the Boy Scout Program for fifteen years. Norman and Elaine are the parents of four children and seven grandchildren. They are enjoying retirement and their family.
#6 – Vonda Hadfield Whitlock was born on January 24, 1920, the second child to be born in our new home built for us by Grandpa Jorgensen just north, on a small knoll, from the log cabin (turned into a granary in later years). Vonda enjoyed the youthful days of Grouse Creek, Utah and later joined with her mother and other siblings in Logan for further education. She graduated from Logan Senior High School. During the ensuing years she almost lost her life due to complications of a ruptured appendix and peritonitis.
She met Jack Whitlock during these years and the pending war problems. In spite of all this they were married on April 10, 1942 in the Logan Temple. She was a valiant war bride and followed her husband wherever she could during the service. She supported Jack through school at Utah State Agricultural College and later attended college herself. This education helped her gain a job with Civil Service at the Triple A Office in Logan. Jack became a builder and Vonda worked at the Logan City Office for thirty-two years.
Jack and Vonda are the Queen and King of square dance fame of forty-seven years and still dancing. They adopted two children, a daughter Jackie and son, Von. They are grandparents of seven and one great-grandchild. They are officiators in the Logan Temple. They have served twelve years and are still faithfully serving.
#7- Amy Hadfield Petersen (better known as sweet Amy, this is Myrls' insert, bless her heart) was born on September 15, 1921 at Grouse Creek, Utah, and also had Grandma Hadfield help her into the world. Amy enjoyed a happy, carefree childhood and school days. She followed the lead of her siblings by attending and graduating from Logan High School. After graduation she joined the work force having a variety of job experiences. She worked a short time at a cannery in Brigham City, Utah, then as Telephone Switchboard Operator for three years in Logan. Looking for greener pastures, she attended UtahState Agricultural College and secured work in the Triple A Office at Logan, Utah for three years. She met and fell in love with LaMoyle Petersen while he was home on leave from training in the Army Air Corp. They were later married in the Logan Temple on June 10, 1946.
Amy soon took on a new career as wife, mother and home maker, adding another career later as seamstress part time until later years when she spent full time sewing for The Modern Trend, later renamed Trend Interiors, a well-known drapery shop in Logan, Utah owned and operated by her brother, Max. She recently retired during the year 1995.
LaMoyle and Amy are parents of seven children, thirty-three grandchildren, and six great grandchildren. They are currently officiating in the Logan Temple.
#8 – Max Hadfield was born on May 2, 1924, lived his youth and early years at Grouse Creek then moved on for higher education in Logan, Utah. He graduated from Logan High School and attended Utah StateUniversity.
World War II helped him decide what to do after high school graduation. Max served in the Air Force as a Bombadier-Navigator and later a B-29 Flight Engineer during the war. He later served an LDS mission in the Texas-Louisiana Mission. He married Marie Nielsen on September 7, 1951 in the Logan Temple.
Max's first business venture was with a brother, Dean, in the Cache Auto Wrecking Co. but his life time career has always been the family oriented drapery business, first as Modern Trend Shop, which grew to become Trend Interiors Corporation. This enterprise as a family business provided work for the children through their high school and college years and continued to work and sustain all the family's needs, even to this date.
Max and Marie are parents of seven children, twenty-seven grandchildren, including two step grandchildren and one step great-grandchild.
Max and Marie served as couple missionaries to British Columbia in 1991-1992.
#9 – Nina Grace Hadfield was born in Grouse Creek, Utah on February 6, 1926. Grandma Hadfield was still midwife and attended at Nina's birth. Nina was named after her mother and has always been a joy to her and to everyone she meets. Nina enjoyed a happy childhood at Grouse Creek and attended elementary school, grades one through four at Grouse Creek, the fifth at Logan Woodruff, sixth grade at Ellis and Adams in Logan, Utah then back to Grouse Creek for seven and eight grades. She finished her schooling in Logan, Utah graduating from the Logan Senior High School. After graduating Nina was hired as secretary to President A. George Raymond at the Budge Memorial Hospital for a short time. She attended the Utah State University and worked at the extension service for Carl Frischnecht until she met AllenBastow. They courted and later were married on October 2, 1947 in the Logan Temple and moved to Salt Lake City where Allen was employed as a salesman and later transferred to Twin Falls, Idaho where he excelled with the same company until he retired. They still live in that city.
They are the parents of eight children, twenty-five grandchildren, and two great grandchildren.
Allen and Nina have spent a lot of happy times together in travel. They both have held many responsible positions in the LDS church, especially as ward and stake missionaries. Nina has worked part time in a floral shop in Twin Falls, and still helps in busy times.
#10 – Dean Jorgensen Hadfield the last child born to William and Grace Hadfield. He was almost a leap year baby as February had twenty-nine days the year he was born on March 1, 1928. He also was ushered into the world by Grandma Hadfield, who died the following January 1929.
Dean attended some elementary school at Grouse Creek but most of his schooling was in Logan, Utah.
One business enterprise with his brother Max was the Cache Auto Wrecking Yard, where they also sold auto parts. He also owned a trailer park and bought and sold trailer homes. His main career, and a very highly successful one, was with New York Life Insurance Company, where he belonged to the Million Dollar Round Table, because of his successful salesmanship.
Dean and Arla fell in love and were married on January 30, 1948 in Preston, Idaho. They were later sealed in the Logan Temple on June 24, 1952.   They are the parents of seven children and twenty-two grandchildren.
Dean retired early and spends his winters in Ajo, Arizona and Summers in Filer, Idaho.
Grace died September 30, 1998 and is buried in the Grouse Creek Cemetery.