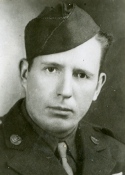 Doyle H. Simpson was born August 25, 1915 in Grouse Creek, Utah, a son of Samuel and Amy Hadfield Simpson.
He had lived in Grouse Creek, Utah until 19 years of age and later moved to Layton and Ogden. He attended Grouse Creek elementary school, Ogden High School and Utah State University.
He married Fay G. Hoggan in 1949; she died June 29, 1971. He then married Billie Strouse on December 17, 1971 in Elko, Nevada.
He was an equipment specialist in electronics at Hill Air Force Base, Utah since December 1951. During WWII he served as a sergeant in the Air Force. He was a member of the LDS Church, Elks Lodge and Eagles Lodge.
Doyle age 57, died June 23, 1973 at the McKay Hospital of heart failure.  He is buried in the Washington Heights Memorial Park, Ogden, Utah.