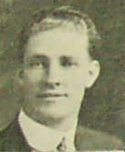 Stephen H. Paskett was born April 7, 1892 in Grouse Creek, Utah a son of William P. and Annie Mecham Paskett.
His brothers and sisters are: Mary Jane, Stephen Henry,  David M., Hatie La Vina, Rhoda Annie, Charlotte, Melvin Oscar, Harold  Andrew and  John.
He grew up in Grouse Creek and served a mission for the LDS Church to England.
He married Thurza Hunter on June 21, 1916, in the Salt Lake Temple, she died in 1947. He married Ann Sipkins on December 31, 1949. She died on June 27, 1983.
His children are: Margaret, Carol, Lou, Ernest and a foster son, Phillip "Laddie" Cummins.
He died March 14, 1989 and is buried in the Oakley, Idaho Cemetery.