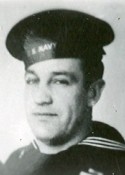 Ronald Jorgensen Hadfield was born on April 14, 1915 at Grouse Creek, Utah in a one room log cabin also with Grandma Hadfield as midwife. His parents were William and Grace Jorgensen Hadfield.
He attended school at the community rock school, riding to and from school with all the others kids from the northern part of Grouse Creek in what was known as the "band wagon." Our Dad and Uncle John took turns driving us every other week.
He was out of school one year then Elden became a candidate for high school. All three children, Elden, Myrl and Ronald went to Logan and lived with Grandpa Jorgensen, in his little old yellow farm house at 65 East 500 North next door to the Samuel Christensen family. Ronald became a real hero or life saver for Elden and Myrl by helping Aunt Ret do her washing. In exchange they did ours. Ronald was a favorite of Grandpa and Aunt Ret, and a blessing to his siblings, FOR SURE!
Their father, William died in 1929 just 2 days before his 43 birthday after being hospitalized for several months.
After graduating from Logan Senior High School, he worked awhile for Hubert Ward Tire Company. He met and married June Humphreys in Farmington, Utah on August 17, 1937. Later Ronald became a police officer and was working there at the time he was sworn into the Navy on March 15, 1944. He was the father of one son at the time, another child, a daughter, was born while he was still in the Navy, where he served two years.
Ronald spent ten years as a police officer for Logan City. After the war (World War II) he worked with Parsons Construction Company. He was Superintendent of Roads, until his retirement twenty-nine years later.
Ronald and June are the parents of three living children, one deceased and eleven grandchildren, and three great grandchildren.
It was another sad day for all when tragedy struck and Ronald's life was taken on April 23, 1995.