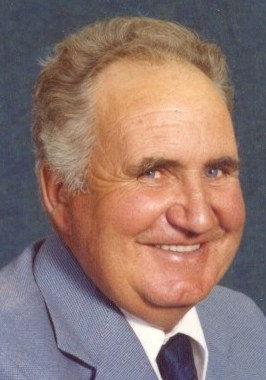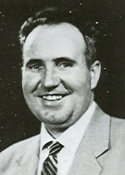 Hughie was the youngest of five boys born to Fredrick Edward Thompson and Margaret Ann Hansen. His brothers were Acel Edward, Arland John, Milo Peter, and Darwin Christian. He was born in the Tremonton Hospital onSeptember 2, 1924. The family was living in Almo, Idaho at that time and Hughie started grade school there. In spite of his determination that he was not going, each day his mother insisted that he would go and she would walk with him. However, each recess and lunch time he would come home again and his mother would have to take him back. This went on for quite some time before the mother finally won. Hughie's attitude must have changed drastically as he was a very good student, always getting excellent grades (shown by his report cards, and certainly not by his telling anyone).
When they were young, their family never had much money, but they were well-taken care of. They truly enjoyed each other and there was no fighting or quarreling. Their parents taught them to work hard and Hughie says there were never complaints about what they were expected to do. Their father had to be away from home to work most of the time, but they accepted this as necessary and did what they had to do. Hughie says they were never a "gushy, hugging family" but they all knew that their parents loved them and they also loved each other very much. I admired them so much for their honesty, brotherly kindness and love. Hughie was very proud of his family. He had many sad days as one by one each member of his family passed away, leaving him as the last one.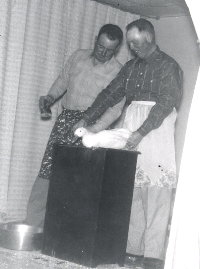 From Almo their mother moved to Tremonton with Hughie and Darwin, as it was time for Dard (as they called him) to go to high school. In Tremonton Hughie was the Student Boy President in his eighth grade. He admitted to liking all subjects, even most kinds of music!  A devoted teacher tried (but failed) to teach him to appreciate classical music. Each day class members were to listen and identify classical music compositions. The only one he was ever able to guess was the 'Anvil Chorus', which he said really sounded to him like someone pounding on an anvil.
Hughie graduated from Bear River High School in 1942 and then went back to Yost to work with his brother, Arland, on the Beus Ranch. There he had such great times with the young people of Yost and enjoyed his many friends. There were lots of dances and activities in Yost. At that time Hughie contracted rabbit fever from the hay and was hospitalized in Tremonton for a time. He returned to the ranch until he was drafted into the Army in August 1944. His brother's, Darwin and Acel had already enlisted in the service, and Acel was a prisoner of war in a camp in Germany at that time. This was very difficult for Hughie's parents to have to part with another son, but since they had no choice they made the best of the situation.
Hughie has a graduation certificate from the Heidelberg University in Germany, received in the 1940's, incidentally this was with the Military Police Unit of the Armed Forces. But it's fun for the family to brag that he was aHeidelberg,  Germany graduate. During his Army career he spent about nine months as a mechanic in the motor pool, repairing trucks and jeeps. Before that time he had spent many months fighting with the Infantry. Army life in World War II was not something he would like to do over, but he states that he was fortunate to gain the experience, and he made some lifelong friends. One of his friends, LaMar Stewart, who has been a Regional Representative and a Mission President, always tells our family that Hughie deserves the credit for LaMar's success because of his influence while they were together in the Army. They fought from the French border to the Danube River inGermany, sometimes walking twenty miles a day. He felt blessed to be able to return home with no injuries.
When the war ended in May, some were shipped to different units and Hughie went to the 100th Infantry Division in Europe. Hughie was discharged on July 2, 1946 from Fort Leavenworth, Kansas. He came home by riding a train to Ogden, a bus to Strevell, Idaho, and a tractor to Yost, Utah. His family was not expecting him so this was a special surprising event for them.
Now it was back to the ranch and work there until the spring of 1948. Good times were shared at basketball and baseball games. Hughie was an excellent catcher on their baseball team and they had an outstanding pitcher. However, even though Hughie was a good hitter, he always said he had to hit a home-run to be able to run to first base (true, he did run hard, not fast). Dances were also a highlight of his entertainment, and were usually held on Saturday nights at the different communities of Yost, Park Valley, Almo, Elba, Malta, Strevell and Grouse Creek, following the team competitions. It was especially fun at Naf, Idaho where all the young people our age gathered.
At a young age Hughie had little interest in girls and said that his first date was when he was eighteen. However, he left behind a good friend in Colleen Tracy when he went to the service. During the times of the ball games and dancing activities he met Marge (Marjorie Tanner) of Grouse Creek, and now I can tell what I know happened.
Hughie was working for Arland at the ranch in Yost when I met him and I had been working at the bank in Brigham. I had been in the hospital with pneumonia so I was recuperating at home in Grouse Creek. He had dated my sister, Audrey, a few times but she didn't seem impressed and I fell madly in love with him. He was so handsome and so kind. (No prejudice).
We dated by long distance about 135 miles around the mountain from Yost to Grouse Creek for a few months. Sometimes after a dance in Naf and then the long ride home, Hughie would arrive back in Yost just in time to go to work. After a short time he moved to Ogden and worked at the Defense Depot, so it was still long distance.
We dated from October 1947 to June 23, 1948 when we were married. Hughie wrote a couple of paragraphs for his history and I quote one line, ("moved to Ogden, married Marge onJune 23, 1948 in the Logan Temple. Greatest thing for me") We honeymooned in Ogden for a couple of days and stayed in our apartment there. Our apartment was a story in itself, but we were ecstatically happy. After a few months we moved to Tremonton and Hughie worked as a farm mechanic. We were there for three years and though I loved it, Hughie was anxious to get back to ranch life, so back to Grouse Creek we came. We bought a home, filed for a desert entry and began ranch life and raising children. We had LaNette, born on August 28, 1951, then Leann, born on August 11, 1954, Rae Dean, known as Bambi, born on June 14, 1957. Then came our boys, Blair Guy, (nicknamed Butch), born on April 17, 1959, followed closely by Brian L., (nicknamed Bub), born on March 26, 1960. Needless to say, we were busy.
Hughie mentioned that we have always struggled financially but we have had the necessities of life and we have been extremely blessed and happy. Some of the sorrow of our life was in losing sons-in-law. LaNette's husband, Brian Gibbs, died of cancer and Bambi's husband, Keith Plowman, died of a brain tumor just a year and a half apart and both being very young. Later, both daughters married families so our descendants grew in great numbers. Counting our step grandchildren and great grandchildren, our family now numbers seventy.
Hughie worked for the BLM in Grouse Creek for several years and then worked for the Box Elder road department for twenty-three years, retiring in 1987. He still has the ranch that he has struggled for years to develop and his cattle. He has enjoyed this life very much.
Hughie has always had a strong testimony of the Gospel. When we came to Grouse Creek, his first position was Sunday School Counselor. From there he was called as Bishop, served for seven years, then first counselor, second counselor, Finance Clerk for many years, and then back to being a Sunday School Counselor. He jokes, "they couldn't decide what to do with me."
Another position that Hughie enjoys is his position as Board of Director on the Raft River Electric Co-op, where he has served for forty-five years. He has made many lifelong friends there also.
Hughie's other one-liner of his history says, "We have a wonderful family and wonderful grandkids, and yes, we are truly blessed."
Written February 15, 1997 by Marjorie Thompson
Hughie passed away on February 8, 2002.  He was involved in an accident at his home in Grouse Creek where a porch awning collapsed on him and he didn't survive.  He was buried at the Grouse Creek cemetery on February 13, 2002.