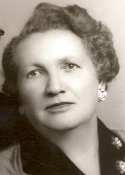 Nola was born in Grouse Creek, Utah on September 13, 1903, a daughter of Albert Frances and Mary Jane Jones Richins. She was the last of thirteen children:  four sisters:  Eliza, Louie, Annie and Orita, and eight brothers, Sidney, George, Almy, Wilford, Orson, Ether, Newell and Wellington.
She was born just a couple of months before her father left for a mission to England. Her older brother, George, came home from his mission a month later and he blessed her, and she was almost three years old before her father came home. She was frightened of him and to win her over, he would sing songs to her and taught her to sing. Some of those songs she could still remember and was singing them in her ninety-first year.
She got her eight years of education in the old Grouse Creek School. Her favorite subject was English literature and she loved writing stories. When she was in the 8th grade, she won an award for her Christmas story. A copy of that story in her hand writing is a treasured possession of her family.
Nola really enjoyed singing in choirs or to her children and grandchildren, and they enjoyed it also. When Nola was eighty-three years old, at a family reunion at Aspen Grove during a home-evening event, she was handed a microphone and she took that like a pro and sang old time songs for thirty minutes or so. Such a
treasured memory for her whole family.
She married Lawrence J. Kimber on June 22, 1921, with no reception, showers or honeymoon, just came home to the ranch and to work.
They lived in Grouse Creek until 1947 and then they moved to Brigham City, Utah and lived there until 1960 and then made the moved to Sunset, where they spent their remaining years.
She was the mother of nine children:  three boys, Clifton, Wayne and Glenn, and six girls, Elva, Ivy, Norene, Myrna, Jeneil and Bernice.
She was always active in the church, like her husband, and her testimony was strong and always evident in how she lived. She served in Mutual, Primary and Relief Society, as teachers and  she served as Relief Society President on the Stake Board, and for ten years as an ordinance worker in the Ogden LDS Temple. She served seventy years as a visiting teacher and in her ninety-first year she was teaching the single adults in her ward.
She belonged to the Daughters of the Utah Pioneers and she enjoyed that very much. She loved quilting, crocheting, and tatting and was an excellent cook. Her greatest joy was her family and she was constantly sharing the fruits of her skills
with them.
On September 25, 1995 at the age of ninety-two, her tired body gave up and she slipped from this earth into the arms of her husband on the other side of the veil.
She left a real legacy, nine children, forty-five grandchildren and 140-plus great and great-great grandchildren.
She was interred in the Clearfield cemetery.