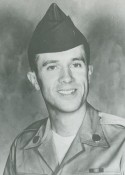 War is never pleasant but Vietnam seemed to be particularly distasteful.  That was where Terry, along with about 58,000 of his generation died.  He was a Staff Sergeant, serving at various times in the 12th Infantry, 4th Infantry and 501st Infantry. He had written that he was to receive a furlough toward the end of March that year, 1971, and he was really looking forward to it. He had been in the country seven months and had already proven himself under fire and been recognized with the Army Commendation Medal with "V" for valor.
The action had heated up in Quang Tri Province, close to the Demilitarized Zone, so Terry's leave had been cancelled and on the night of March 29, 1971, he and his unit were trapped by snipers. After two other officers were killed, he became acting commander and quickly got ten volunteers to draw fire while the rest of the men escaped.  The little squad paid the dearest price as all eleven men were killed that night.  He was posthumously awarded eleven medals for bravery, heroism, meritorious service, and valor.  He was 25 years old.
Really, no birth of a child is unimportant or ordinary, though it might have seemed so to some when Terrel Olin Kimber was born in the Cooley Memorial Hospital, in Brigham City, Utah, on May 15, 1945, to Oren LeGrande Kimber and Opal Lee Miller Kimber of Grouse Creek, Utah.  He joined siblings Joetta and LeGrande.  Karla and Randy came later.  He began life as a "thin and fussy" baby, so Opal carried him around most of the first year.  Maybe that was where he learned the love of cooking.  Later, his wife would state that he was a better cook than she.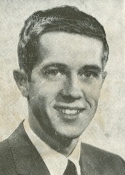 As he grew, the fussiness disappeared and it was replaced with laughter and good humor…and whistling.  Like joy bursting out of his heart, you could hear the whistling before you could see the boy.  The thinness, however, remained.  He was always slender.
As a toddler, and following the example of his dad keeping the machinery in good working condition, he would move around outside with a stick or in the house touching this and that and saying, "Gwease,gwease, gwease."  He was still small when he stood on a chair and sang, "The Lord Is My Shepherd," in a Primary program.  Other times, he sang with his siblings and also some duets with Lynn Kimber in church.
Terry learned to gather eggs, do chores, cut wood, milk cows, rope and ride a horse, fix fences and machinery, shoot a gun, brand cattle, and the myriad of other things ranchers do.  Like his dad, he especially loved horses.  He played sports, ice skated, went sleigh riding, danced, learned leather tooling and whittled a little, participated in the Park Valley Track Meets and for a few years trapped muskrats with his older brother, so that they could sell the hides.
When he was eight years old, he was baptized in the Etna Reservoir, like many others.  He attended Grouse Creek School through the ninth grade, where life long friends were made.  Making friends was easy for Terry.
He was going to the Billy Field to wrangle horses that day in the summer of 1956, but he must have cinched old Pride too tight, because she reared back and fell pinning Terry's head between the cantle of the saddle and the gravel road.  He was unconscious as Oren brought him into the back bedroom.  Uncles Winfred, Ted, and Ray Kimber joined with his dad in giving him a blessing and the rest of the family began to pray.  Oren and Winfred then took him to Brigham City to the Doctor and he drifted in and out of consciousness all night.  It turned out to be a skull fracture just above his right ear and it was bleeding inside.  The doctor said he'd have headaches and maybe his eyesight would be affected but we believe none of that took place because of that Priesthood blessing and another he received from his Grandad Eugene Miller.
He was active in Boy Scouts, took survival training and passed and blessed the Sacrament in church.  From his mother, Terry learned and practiced art and he also wrote poetry, sticking out his tongue in concentration, as he did so.  As a teenager, he became meticulous about the way he dressed.
When he was 15, the family moved to Brigham City so that his brother, Lee (LeGrande), who had completed his schooling in Grouse Creek (which went through the tenth grade), and later the rest of the kids could finish high school.  They kept the ranch with the help of his Kimber uncles and Terry spent time there whenever he could.  His dad drove back and forth almost every weekend.
Terry made new friends and was involved in the ward.  He acted in Road Shows, played on the ward sports teams and graduated from Box Elder High School and Seminary in 1963.
Before he went on a mission, he attended Weber State College, and particularly loved LDS Institute and manufacturing and welding along with the drama classes which performed at schools in the area. During the summer of 1964, he helped fight forest fires, some on Red Butte and Mud Springs.  He worked at the Internal Revenue Service in Ogden with Lee as tax adjusters for a number of years.
In October, 1964, Terry began his mission in the Gulf States Mission in the Southern part of the United States, where Bertha (Joe) Kimber was also serving.  He learned to love the people and some Southern dishes like okra and pecan pie.  He especially loved teaching the gospel.  One missionary said of him, "He was an excellent, confident missionary.  He wasn't afraid to speak the gospel."  Upon returning home in October, 1966, life picked up for him almost where it had left off.
He again enrolled at Weber State and excelled in Speech and Theater Arts courses. As he went along, he considered a role in education, maybe teaching in the secondary schools.
It was in one of the Speech classes that he met Judy Lynn Ward of Ogden.  They were married December, 1967, and had their only child together, a boy, Terrel Olin Kimber II, in August, 1968.
The Vietnam War was escalating at this time and there were opportunities for Terry to serve in other capacities but he felt that he should defend his country as a soldier.  He was drafted into the Army in May, 1969 and was sent to Fort Lewis, Washington, for training in July, 1969.
In February 1970, Terry was sent to Ft. Benning, Georgia, to Non-Commissioned Officer Candidate School.  After four months, he graduated as the Leadership Honor Graduate of his class and honor candidate for both his company and battalion and was given the rank of Staff Sergeant.  He received his orders and left for Vietnam on August 23, 1970.  He was assigned to reconnaissance and intelligence.  Maybe during war, all soldiers feel this way, but he told his family that he probably wouldn't be coming home.  He died serving his fellowmen.
Terrel Olin Kimber loved Grouse Creek, and he spent as much time there as possible.  He once said, "If I just had a roof over my head and enough to eat, I could stay there forever."  He had written his dad about getting some calves and some land to come back to.
He also loved his family and he loved Jesus Christ.  He wrote that his testimony of the gospel was the only thing that carried him through the horror he had to endure in Vietnam.
Terry's family is very proud of the life he chose to lead.  Maybe we can all benefit from his advice, "Don't stop here, but let's push on."
Terry's funeral was on April 12, 1971 and he is buried at the Grouse Creek Cemetery in Grouse Creek, Utah.