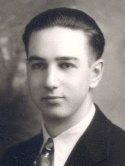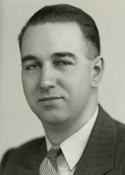 David Edwin Tanner was born September 7, 1912 in Grouse Creek, Utah a son of Mary Emily Barlow and Allen Newman Tanner.
His brothers and sisters are: Amanda, Allen Raymond, Joseph Thomas, Leslie, Alice Evelyn,  Herbert, Delbert and Bertha.
David's early schooling was completed in the little school house in Grouse Creek, with graduation from Ogden High School, Ogden, Utah. Always valuing education, but not having the opportunity to attend college in his youth, David took every occasion to take classes offered through his employment. He completed an Associate's Degree in Industrial Relations through the University of Utah.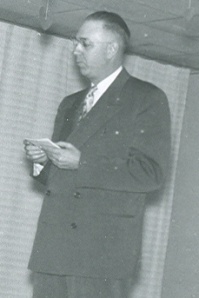 He worked for the Federal Government at the Naval Supply Depot at Clearfield, Utah (becoming the highest ranking civilian employee) until its closure. He then went to work at Hill Air Force Base, Utah.  His government service totaled 32 years. He received numerous leadership and distinguished service awards for excellent work and diligence.
David married Edna Maw on November 24, 1939. They were sealed on June 4, 1940 in the Manti LDS Temple.
His children are: Lynn and Karen.

The Church of Jesus Christ of Latter-Day Saints was an important part of David's life. He was a missionary in the North States Mission, a Bishop's Counselor, Bishop, High Councilor, Stake President's Counselor and a Stake President, spanning more than 46 years of service.
David died May 29, 1998 and is buried in the Washington Heights Memorial Park, Ogden, Utah.