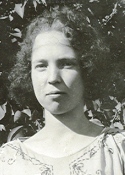 Alice Evelyn Betteridge was born April 22, 1907 in Grouse Creek, Utah a daughter of Alan N. and Mary Emily Barlow Tanner. Her brothers and sisters are: Amanda, Raymond, Leslie, Edwin, Herbert, Delbert and Bertha.
She was reared in Grouse Creek and completed her schooling there.
She married Orland J. Betteridge on November 2, 1925 in Brigham City, Utah and they are the parents of:  Allen Dale, Thelma, Mary Ellen, Marsha and Sharon.
They lived in various places as Orland was working for the Railroad.
They moved to Ogden, Utah in 1936 where they spent the rest of their lives.
She was a member of the LDS church and active in the Relief Society and had taught Primary.
Prior to her illness she was active in the BPOE Does.
She had a sense of humor and was always fun to be around.  She was a very good homemaker, always keeping her house neat and tidy.
Eve passed away on August 1, 1985 and is buried in the Washington Heights Cemetery in Ogden, Utah