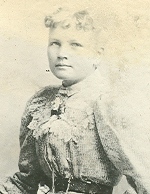 Louisa Emiline Richins was born October 24, 1882 in Grouse Creek, Box Elder County, Utah a daughter of Albert Francis and Mary Jane Jones Richins.
Her brothers and sisters are: Albert Sidney, Eliza Harriet, George Robert, Annie Jane, William Alma, Wilford Francis, Orson Chester, Joseph Ether, Newell, Wellington Irvin, Orita Ellen and Nola Mary.
She was reared and educated in Grouse Creek, Utah.
She died on October 11, 1899 in Grouse Creek of Typhoid Fever and is buried in the Grouse Creek Cemetery.