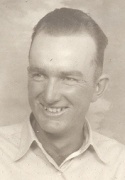 Parley Johnson Paskett was born May 21, 1918 in Grouse Creek, Utah a son of Sidney and Alice Myrtle Johnson Paskett.
Parley was the second of six children of 3 girls Ralva, Emma, Dorotha and 3 boys Parley, Arnold, and Arthur.
He was educated in Grouse Creek and was reared in the days of the open range when horses ran wild and free across western Utah.
He met his eternal companion Ruth Vanee Parker and they were married October 6, 1942 in the Salt Lake Temple.
His children are: Parley Jay, Philip Andrew, Sidney James, Fred Parker, Beverly Ruth, Connie Lee, and Dale Carlos.
Parley was a cowboy, a laborer, a postman, and a writer.
He served his country in World War II. He was a leader, never asking his men to do something he was unwilling to do himself.
He employed this trait in all his responsibilities in his work, his church and as a father and patriarch in his family. He wrote three books and several articles pulling from his love for horses and family.
Parley was High Priest in the Church of Jesus Christ of Latter-day Saints and a faithful member of his ward. He served as Bishop and in the bishopric for 18 years, as a high councilor, teacher and home teacher.
Amongst then all, he recognized his call as a father was the most precious where he successfully employed the philosophy, "it is only too late when you give up".
He passed away on July 14, 1999 and is buried in the Provo City Cemetery, Provo, Utah.