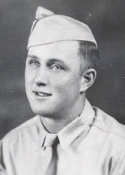 Arthur was born on May 21, 1921 in Grouse Creek, Utah to Arthur and Mary Jane Paskett Ballingham.
He married Mary Magdalina Baxter, January 25, 1943 in the Salt Lake LDS Temple. She preceded him in death. He married Angela Doney Graham on September 21, 1992 in the Ogden LDS Temple.
There children are; Glen, Martin, Mary, Roger, Grant, Gilbert and Rilla Harold; step-children; Craig, Kelly, Bryan and Jerilyn.
He was very active in the LDS church. He served as Ward Librarian and eight years as an Ordinance Worker in the Salt Lake Temple. He retired from the Southern Pacific Railroad after 43 years of service. He proudly served his country and was a veteran of WWII. He truly enjoyed being a grandfather and never tired of spending time with his grandchildren.
Arthur Ballingham, 82, loving husband, father and grandfather, passed away peacefully on August 21, 2003 at the LDS Hospital surrounded by his loving family.  He is buried at Washington Heights Memorial Park in Ogden, Utah.