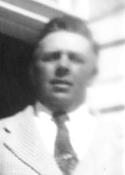 H. Douglas Richins, son of Wellington Irvin Richins and Ruby Douglas was born on January 20, 1925 in Grouse Creek, Utah. He is the third child of seven children, Larene,Virginia, Virgil, and step brothers Lynn and Gerald, and a stepsister, Mary Jane.
He attended elementary school in Grouse Creek and after moving to Tremonton, Utah with his family he graduated from Bear River High school in Garland, Utah.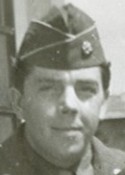 Douglas was called into the Army during World War II and left on June 5, 1945. He spent his training at Camp Hood, Texas, transferred to Camp Pickett, Virginia, then to Camp Shanks, New York. He was shipped to Italy where he served with the Army of Occupation until the end of the war. He left the United States the last of November 1945 and arrived back in the U.S. just before Christmas and home by December 27, 1946, having been overseas fourteen months.
Doug married Luana Tingey on July 20, 1948 in the Logan LDS Temple. Four children were born to them:  Sheldon, Sherman, Anita and Steve.
He was active in the church, serving in many capacities including being a counselor in three Bishoprics, once in Belmont Ward and twice in Grouse Creek Ward, High Priest Group Leader, Sunday School Teacher, Home Teacher, and in various other church activities.
Ranching and farming was a great ambition for him and he engaged in it all of his adult life in Grouse Creek and Riverside, Utah. He was a member of the Livestock association and had served as a Director in the Grouse Creek Co-op store there.
While living in Riverside, he worked at Hill Air force Base in Ogden, Utah. He was involved in refueling airplanes.
After his retirement from Hill Air Force Base he and Luana returned to Grouse Creek to live and operate their ranch there. He also worked for Box Elder County in the summer as a weed control officer and spent many hours spraying the noxious weeds in the western part of the county where many people learned to love and appreciate him. He and Luana also spent a lot of time reading meters for the Raft River Electriccompany in the greater Grouse Creek area.
His love for the land was very strong and in 1996 he had a large well drilled and started preparing his farm for sprinkler irrigation, clearing the sage brush, plowing and planting and running his pipelines. His untimely death on January 29, 1997 interrupted his plans but he will always be known for his outstanding efforts on behalf of his wife, family, friends and community.
He is buried in the Grouse Creek  Cemetery.