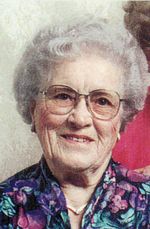 Annie LaRetta Wakefield was born in Grouse Creek, Utah, on December 27, 1911, a daughter of goodly, experienced parents, Milas Erastus and Annie Elizabeth Kimber Wakefield. Experienced in the fact that this new arrival was number eight, being the fourth girl (Leona, Sarah and Julia came before) and four boys (John Afton "Jack", Arlin, Don and George "Ellis") with three boys yet to follow (Claude, Elwood, and Leland). Their father owned and operated a small grocery store and was the postmaster.
Her childhood memories of Grouse Creek include the time, at about age ten, she decided to run away from home after receiving a reprimand from her mother. Loretta spent "a long time," so she thought, under a tree on the hill behind the house, watching her mother and sister Julia hanging the washing out to dry. To her surprise and consternation, when she returned to the house, they hadn't even missed her.
Some school years were spent in Grouse Creek while others were in Ogden, Utah where Loretta lived with her mother, younger brothers and two older brothers, Don being in high school.
In high school Loretta decided to change the spelling of her name to LaRetta. She graduated from Ogden High School in June 1930. A highlight of that time for LaRetta was, along with another girl, to represent the Mount Ogden Stake in the YW Choir. The choir introduced the new song "Carry On" at the June 1930 YW Conference in the Salt Lake City Tabernacle.
On March 2, 1931, LaRetta married Harold Chester Smith in Elko, Nevada. She was twenty and he twenty-three. They had met at a Grouse Creek Fourth of July dance in 1928. The marriage was solemnized in the Idaho Falls LDS Temple on August 23, 1962.
Their early married life was a traveling life. Harold was a telegrapher for the Southern Pacific Railroad (Ogden to California). They were stationed at more than seven places between Ogden and Reno, Nevada.
On January 16, 1932 their daughter, Shirley Rae, was born in Ogden. Mothers then remained in the hospital ten days. The total hospital bill was $30.00. The doctor's total care bill was $125.00. This was during that time known as the "Great Depression."  They then had a residence in Lucin, Utah.
Job insecurities brought about conditions where Harold, his brother Ervin, and their dad, Henry became traveling farmhands. The women all stayed in Lucin where they lived on cabbage for two weeks, thenthey were blessed with a truck load of watermelon. They managed to "get by" until some time later the men returned with funds to buy some groceries.
Later (1936) Harold became an employee of the U.S. Department of Interior on the Western Shoshone Indian Reservation, Owyhee, Nevada. LaRetta and four year old Shirley Rae later joined him fromMontello, Nevada. At times during the six years at Owyhee, LaRetta was a substitute elementary school teacher, played the piano for school programs, and the Christmas program at the only church inOwyhee, the Presbyterian Church. It was there, practicing for the Christmas program, that they heard that Pearl Harbor had been bombed. Harold was away, at the Goshute Indian Reservation in Utah, supervising the building of a dam.
LaRetta also learned to play and enjoy tennis. Then there was the time when she decided to learn to ride Shirley Rae's bicycle. She didn't want anyone to see her, so at night they went out onto the edge of the road that passed the house, where there was a street light. If any car lights came into view, Shirley Rae was holding the bicycle. After tipping over and skinning her knee, it was decided it might be safer on the front lawn where the light reached. Things went from bad to worse. LaRetta ran into the half, wooden barrel flower box in the middle of the lawn and put a gash in the side of her leg. Harold said that was enough as he didn't want her to end up in the hospital. This was good enough for LaRetta and she gave up the bicycle and said that she must be mentally unbalanced since she couldn't balance a bicycle.
The family briefly lived in Wyoming and Utah as Harold's employment required until he received a new Interior Department appointment, in January 1943 at the Wind River Indian Reservation, Fort Washakie, Wyoming. LaRetta worked in the U.S. Post Office.
A year later Harold enlisted in the U.S. Navy. LaRetta, Shirley Rae, and Rose Jayo, a daughter of friends who had lived in Owyhee, lived in Boise, Idaho.
While living in Boise, LaRetta was employed as a private secretary for the Sawtooth Company and the Allied Corporation (department store chain).
Harold returned from service in the Pacific in November 1945 and after a short employment period, bought a farm on the Snake River in Grandview, Idaho. LaRetta and Harold moved to the farm (spring 1946), leaving Shirley Rae with Rose Jayo Smith and husband (no relation), to finish the school year.
LaRetta and Harold, as in earlier and later years, were members of a four pieced group that played for dances, many of them square dances.
Also at this time two nieces, Bonnie and Beth Wakefield, came to live with them. Shirley Rae graduated from high school, and a nephew, Larry Wakefield spent Summers in Grandview. Not only was she a homemaker, but LaRetta was also a farmhand, operating all the machinery, and helping with the livestock, dairy cows, sheep, pigs, turkeys, and chickens.
December 1954 the family moved to a ranch in northern Idaho, north of Priest River. There the family grew and decreased with the comings and goings of the county foster children, Bonnie, Beth, Larry, two other nephews, Kerry and Cameron, and niece Zoanne Wakefield.  Shirley Rae was at the University of Idaho, Moscow, Idaho, then went into the Army. LaRetta was still operating equipment, mainly the hay baler and rake. In the winter they fed 300 head of cattle. LaRetta and Harold also owned and operated a school bus for the Bonner County School District, transporting elementary school children. She still found time to give piano lessons, having as many as seventeen students.
After retiring from the ranch and the family gone, LaRetta and Harold often drove to Spokane, Washington (eighty miles one way) to work in ceramics. She still had piano students and was also the Avon Lady, having a route over an area of about seventy-five miles.
During this post ranch period LaRetta and Harold were able to do some traveling. They went to the Seattle World's Fair in 1963. (Daughter Shirley Rae was stationed in Seattle.), took a trip up the highway to Alaska, toured through the southern U.S. to Georgia in 1965 (where Shirley Rae joined them for thirty-two days), to Florida, the east coast to Washington, D.C., west to Carthage, Nauvoo, (at Quincy, Illinois, Shirley Rae flew back to Georgia, onto Ogden, and Priest Lake. They did take other, shorter (miles) trips, so did enjoy that brief retirement.
Leaving the Priest Lake area (June 1966), they became motel owners and operators of the Dayton Motel in Dayton, Washington. LaRetta managed the business while Harold did mainly remodeling. Later (May 1967), after Harold had a serious back injury at the motel and was incapacitated, an injury which he suffered from the rest of his life, even more responsibility fell upon LaRetta.
In the fall of 1973 LaRetta and Harold moved back to the Grouse Creek-Lucin area, so were reunited with his family members who also retired and were moving to Lucin from Ogden. LaRetta found a true calling as the main, one woman, social activities' committee for the ten Lucin residents, visiting relatives, and friends. They had many activities and had lots of fun.
It was deja vu all over again in May of 1976 when LaRetta and Harold traveled the southern route to Alabama to escort Shirley Rae and her two Korean adopted daughters, Kara and Donna, back to Lucin, viaNorth Carolina as Beth Wakefield Walker, lived there. Shirley Rae had retired from the Army, so LaRetta and Harold's family grew in numbers once again. Their small garden then became a large one.
The remaining relatives moved to Tremonton, Utah in May 1986. Shirley Rae returned from a year in Logan, Utah, where she was attending Utah State University, and Kara and Donna had graduated from high school and were gone. LaRetta, Harold and Shirley Rae remained in Lucin. Harold became ill and entered the Veteran's Hospital in Salt Lake City. He never returned to Lucin, but passed away on October 15, 1986.
LaRetta and Shirley Rae planned to move to Tremonton, but they encountered several problems and some obstacles. After overcoming those they were making preparations to move the double and single wide mobile homes, when the Lord took a hand in things. LaRetta's home burned to the ground on January 13, 1991. The only things that were saved were two small file boxes and the Wakefield genealogy book. Shirley Rae's home unexpectedly sold right after they decided in March to have a home built in Thatcher, Utah. They moved into the home on June 30, 1991.
Some of the other hats LaRetta wore were, a member of the Grandview School Board, member of the Owyhee County, Idaho Reorganization School Board, American Legion Post Auxiliary secretary, PTA secretary and weather bureau observer.
A member of the LDS Church all her life, LaRetta served in the Relief Society as president, counselor (twice), secretary, teacher, visiting teacher and pianist. In the MIA she was president, counselor (twice), secretary, teacher and pianist. Junior Sunday School teacher (twice). Adult Sunday school teacher, Priesthood organist, assistant ward clerk and ward clerk. Yes, she was briefly the clerk, continuing in Harold's stead until a new clerk was chosen. Her organ talents were utilized many times over a span of more than thirty years.
In the Thatcher-Penrose 2nd Ward she is (1997) next to the oldest person in the ward, but that has not held her back. Since April 1994, LaRetta has played the organ, along with three other people, at theTremonton Care Center, twice a week. The group occasionally has had other engagements, even as far away as Ogden. LaRetta has also played the piano at various ward activities, including other wards.
Her interests and activities include going to the temple, working on genealogy (had to recoup all of Harold's for one thing), crocheting, reading, working in the yard, visiting neighborhood friends, and as in the past, is involved with young people, namely her granddaughters Kara Stevenson and Donna Sheehan, and great grandchildren, Tyler and Tia Jeppesen, Lindsay, Alex and Emily Stevenson.
Annie LaRetta Wakefield Smith took 'Wingless flight' from this veil of tears back to her Heavenly Father on Tuesday, June 26, 2007. She said she was as old as the hills, but she was only 95 ½. She is buried in the Ogden City Cemetary.