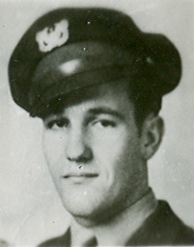 Max Hadfield was born on May 2, 1924. His parents are William and Grace Jorgensen Hadfield. He lived his youth and early years at Grouse Creek then moved on for higher education in Logan, Utah.
Their father, William died in 1929 just 2 days before his 43 birthday after being hospitalized for several months.
He graduated from Logan High School and attended Utah State University.
World War II helped him decide what to do after high school graduation. Max served in the Air Force as a Bombadier-Navigator and later a B-29 Flight Engineer during the war. He later served an LDS mission in the Texas-Louisiana Mission. He married Marie Nielsen on September 7, 1951 in the Logan Temple.
Max's first business venture was with a brother, Dean, in the Cache Auto Wrecking Co. but his life time career has always been the family oriented drapery business, first as Modern Trend Shop, which grew to become Trend Interiors Corporation. This enterprise as a family business provided work for the children through their high school and college years and continued to work and sustain all the family's needs, even to this date.
Max and Marie are parents of seven children, twenty-seven grandchildren, including two step grandchildren and one step great-grandchild.
Max and Marie served as couple missionaries to British Columbia in 1991-1992