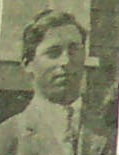 Frederick William Paskett was born January 28, 1894 in Grouse Creek, Box Elder County, Utah a son of William Pope and Annie Louisa Mecham Paskett.
His brothers and sisters are: Mary Jane, Stephen Henry, David Mecham, Hattie Lavine, Rhoda Ann, Charlotte, Melvin Oscar, Harold Andrew and John "M".
His half brothers and sisters are: Penelope Ann, Sarah Patience, William James, Louisa Emiline, Cora May and Lillian.
He was a farm worker.
He died October 16, 1930 in Rupert, Idaho. At his funeral it was stated that in the few years he had lived in Oakley, Idaho he made many friends who will long remember him for his clean living as well as for his agreeable disposition.
President Charles Clark told of the life of Mr. Paskett as a church member. He said that for a long time he had wanted to meet the parents of the Paskett brothers, whom he characterized as men of the highest type; his association with the boys had convinced him that the parents, also, would be persons of whom the LDS church might well be proud. Among other things, he said that the Paskett brothers were known as among the heaviest tithe-payers in the Cassia Stake.
Fred is buried in the Grouse Creek Cemetery.